Why You Need White Label Mobile App for Milk Delivery Services?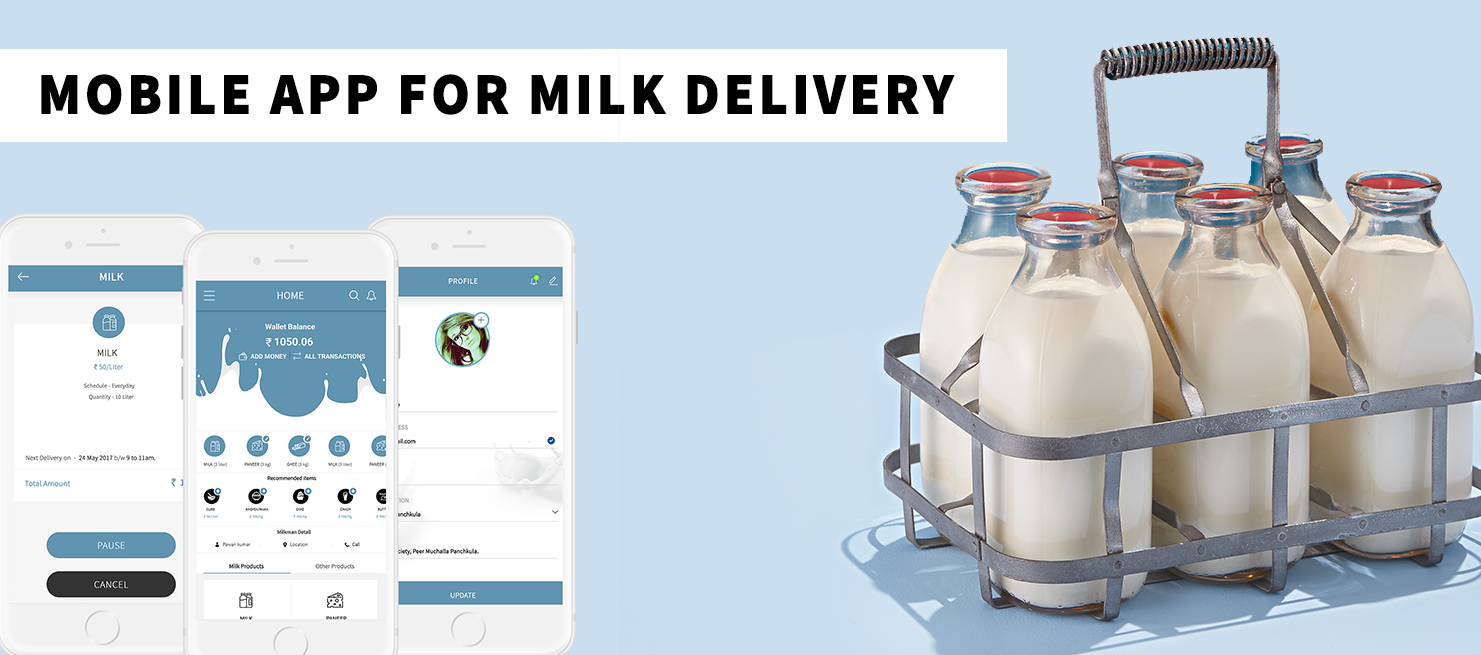 So, what does it take to build the best online fresh milk delivery app solutions? Why do you need a white-label solution for your milk delivery business?
All these questions are very common when you are thinking to transform your dairy farm business to expand to deliver fresh milk online every morning! If you haven't thought about taking your dairy farming and milk delivery services business online
It's time to re-think…
Why? Because apps are in trend, especially the best online daily milk delivery solution is catching attention by the people who don't want any hassles in getting milk every day in the morning. Of course, no one likes to wake up early in the morning and drive down to the milk booth every day, just to get a few ounces of milk. So, milk retailers, as well as a milk dairy, has chances of increasing their benefits from online milk delivery app development in Canada, USA, UAE and so on.
So, why does your business needs white label solutions for milk delivery apps?
Let's put it down in detail.
Milk home delivery services are quite in-demand and it is often carried out through phone calls or groups on chat, which becomes so much troublesome sometimes that it will lead to missed deliveries in the morning as well as trouble in collecting money. Collecting payments is always full of hassle when there is no way of paying money online. It's a great advantage on the part of the milk delivery service company to think of solutions that can give a different identity to their business as well as save on time and cut on costs as well.
It's definitely worthwhile to dig into the benefits of milk delivery solutions…
Reason #1:
Hassle-Free Milk Delivery Mobile App.
Say bye-bye to complex deliveries made on phone calls…
Say hello to easy and hassle-free milk delivery services that shout out your business identity and ease-of-ordering- All at once! Won't you need your top milk delivery service to rank even higher in the online milk app delivery system? A dairy milk app is the best ever solution that is made to take the business of the farm owner to a complete transformation and branding- especially if the white label solutions.
If you already supply milk to homes on daily-basis, you even have a greater chance to reach even more customers when they download the milk delivery app in Dubai, Canada or elsewhere.
Reason #2:
Subscription-based Milk Delivery Online.
So, we said, daily-basis milk delivery. Can we call it subscription-based fresh milk delivery?
And the best part is the…
It is possible with online fresh milk delivery app solutions. In the complete milk delivery software, not only the customers are able to start and pause or end their subscription for milk every morning but the owner of the app (the farm owner or the assigned admin) would be able to view the complete billing and payment through the admin window. They are also able to assign the delivery route for milkman for saving on time and costs.
Reason #3:
GPS Navigation for Easy Routing.
Another very important reason why a milk delivery service company should take the help of a milk delivery mobile application is that in the milkman panel of the app- they are able to easily locate the address of the user to which milk is supplied and this is possible through GPS navigation and routing. There are no missed deliveries or wrong deliveries. It also ensures that the delivery is made on time and the customers don't have to wait
This immensely saves on time and cost.
Reason #4:
Branding of the Dairy Farm Services.
Another major advantage of hiring a company for the dairy products delivery app is that your dairy farm gets a special identity and branding. You can highlight the qualities that you feel would define your business the best. After all, every business has a vision and there are some cutting-edge features that one wants to highlight. In this way, branding of the business would mean identification from the crowd which is the sole aim of mobile app development or online milk delivery app solutions.
Reason #5:
Custom- Made Milk Delivery Software.
One of the biggest reasons why hiring a milk delivery app development company is crucial because they know best how to create custom-made software that is actually a great representative of the company or the milk dairy farm. Tailor-made solutions to suit the kind of dairy farm one owns is a panacea that not many companies know. Therefore, it does matter what kind of company you hire: The level of expertise, the level of similar work they have done in the past, also checking the portfolio helps!
Reason #6:
Operational Features for Farm Owner.
Anything else that a milk delivery software helps with is that it helps with the handling of operational features of the farm. Right from the investment into machinery and other resources to employee management, the software would help you to handle everything A to Z. This is the beauty of the investment made into the dairy app development.
Key Takeaways:
Sell milk smartly. Sell online and witness the growth.
If you want to sell fresh milk online, you will see how hassle-free and easy it is for you to handle the workings of a dairy farm with top milk home delivery services.