Top 5 Use Cases For WebRTC Application Development Services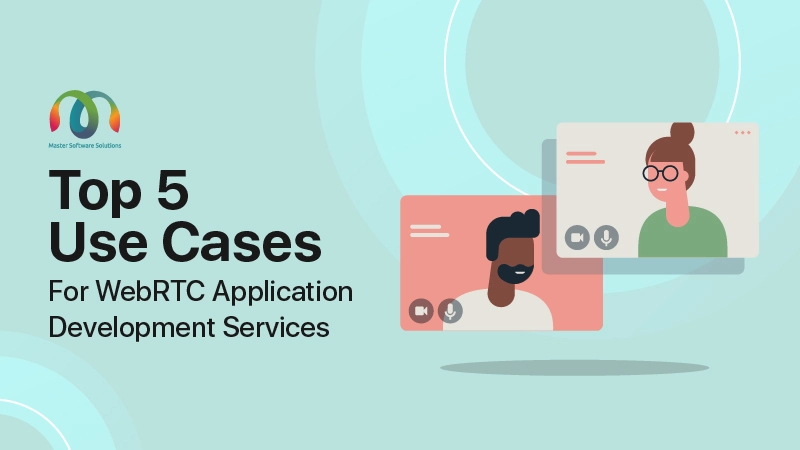 The consistent innovation in WebRTC is revolutionizing the whole concept of video conferencing making it more accessible, effective, and affordable. According to Globe News Wire, "WebRTC is estimated to grow at a CAGR of 34.37% with a market value above $ 300 Billion by 2031" This expected dynamic growth can be seen as many healthcare services, surveillance and monitoring, and IoT industries are using the technology. These industries hire WebRTC developers or contact WebRTC application development services to introduce the technology to their respective industries.
In this article, we will discuss what is webRTC and the use cases where and how WebRTC technology is used.
What is WebRTC?
WebRTC refers to web real-time communication which is open-source software. The technology establishes connections between two users and allows them to communicate, both video and audio, and send or receive files in real time. Technology is API-based that is used by WebRTC application development services that enable audio and video communication.   
Use cases for real-time communication with WebRTC
Peer-to-peer connection 
WebRTC sets up a peer-to-peer connection over the internet that allows video and audio calls. Along with video and audio calls, other use cases include chats, file transfer, and screen sharing. For example Microsoft Teams, Zoom, Skype, and Slake. Technology has also been used in healthcare in online doctor consultations. It allows doctors and patients to converse over audio or video calls and exchange files- prescriptions and tests. 
File exchange
Technology allows sharing files in any format even without audio and video connectivity. WebTorrent is a good example that uses this technology for exchanging files. It is a file-sharing application that uses webRTC technology. 
Things of the Internet (IoT)
Software and sensors embedded in IoT devices can be used to process the data and exchange data which includes sending or receiving the data in real-time. Surveillance and monitoring is a great example of this use case. Nanny cams or baby cams allow parents to monitor their babies from their phones. Another used case is using surveillance cameras on the doorbell of the house or house cameras. Camera manufacturing companies hire webRTC developers to integrate the technology into surveillance cameras. The technology allows the streaming of recorded video on smartphones or laptops with audio anywhere with an internet connection.      
Entertainment and gaming
Technology is now also used for entertainment and plays an important role in engaging customers. WebRTC allows streaming audio and video to thousands of viewers. It includes augmented reality (AR) and virtual reality (VR) and gaming. YouTube Gaming, Google Gaming platform, and OTT platforms. 
Language processing in real-time 
The technology processes the language which involves live closed captions, transcriptions, and auto-translation. One can send transcripts across many platforms using a combination of HTML 5 Speech API and webRTC data channels. For example, closed captions in Google Meets and YouTube. 
It is clear that WebRTC is becoming a more sophisticated and fascinating technology at every step, changing the course of our mindset at every turn. Technology has opened new gates of innovation whose limits seem endless. Master Software Solution is a WebRTC application development service provider with more than 9 years of experience. If you are also curious about WebRTC and want to see how this technology can help your business, Book a Meeting with our tech experts and discuss your business plans.