What Makes a Dairy Management System So Important?
The dairy market is one of the fastest-growing markets with a registered projected forecast of 5.35% by 2027. Simultaneously changing consumer behavior and demand, many milk delivery businesses have started using dairy management systems to streamline and optimize their business operations to improve productivity. 
Dairy management software is an integrated platform that automates and streamlines the business operations of your dairy business. The software facilitates on-time deliveries, reduces operational costs, and helps in scaling the business. In this article, we'll discuss the reasons that make this software very important for your milk delivery business.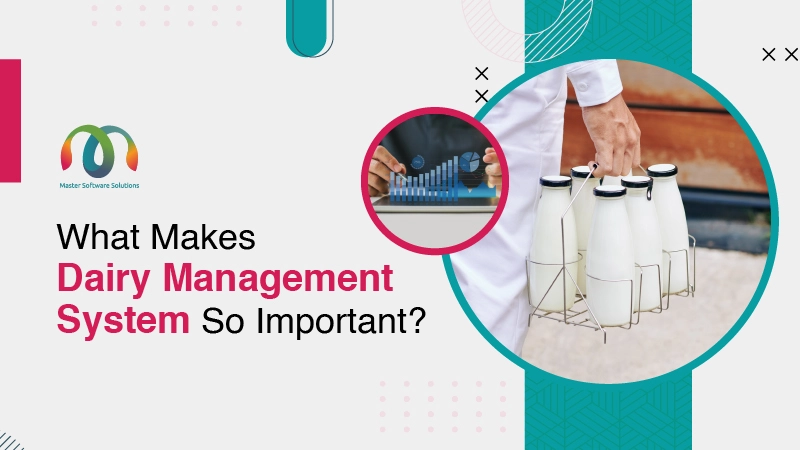 6 Reasons that make dairy management software important for milk delivery businesses
Improve visibility online
Using a mobile app for milk delivery businesses improves online presence and helps in reaching and bringing in more potential customers. Businesses can also market and promote their businesses online which is more inexpensive than traditional ways. Doing so improves the return on marketing investment (ROMI).   
Reduce operational costs
The software automates and streamlines the business process which removes the need for hiring extra staff and improves the efficiency of your business. The route optimization feature is crucial as it not only helps in reducing operational costs but also ensures fast deliveries. It creates the shortest delivery route that reduces delivery turnaround time.
Easy customer acquisition
Taking the business online improves the visibility of the brand and with most consumers being tech-facing, it becomes easier to acquire them. Also, using an online platform increases customer satisfaction scores which brings repeat sales and new referrals. Businesses can also use the refer and earn feature where the customer refers your brand to their friends and relatives and on downloading, they can redeem the amount on their next purchase. These kinds of promotions are inexpensive which lowers the cost of acquisition.        
Mitigate manual errors
Automating the entire business minimizes human interaction with bill generation, manual order taking, managing stocks, etc. Mitigating these errors ensures timely deliveries, delivering on time in full and improving order accuracy.   
Helps with scalability
Using the software automates the business which allows businesses to plan and strategize future business sales without having to worry about business operations. Also, the software auto-generates business reports based on past sales that can be studied and analyzed to understand the performance of a particular product and then make future sales decisions.      
Improves net profitability 
Streamlining and optimizing the business allows them to cater to more customers in the same period which increases net profitability over time. This also reduces overall operational costs as the dependency on manual work, fuel costs, and other costs is lower making the business cost-efficient. Saving this amount can add to net profitability. 
Dairy management software is an extensive tool that can help your dairy business improve efficiency, productivity, and profitability. The software gives complete visibility of the entire business process starting from order placement to order fulfillment. It allows business owners to control and track their business on a single platform. If you also want to know more about dairy management software and get one specifically for your business, Schedule a Call with our IT experts and see how we can help your business.