Is Your Grocery Business Coronavirus Ready?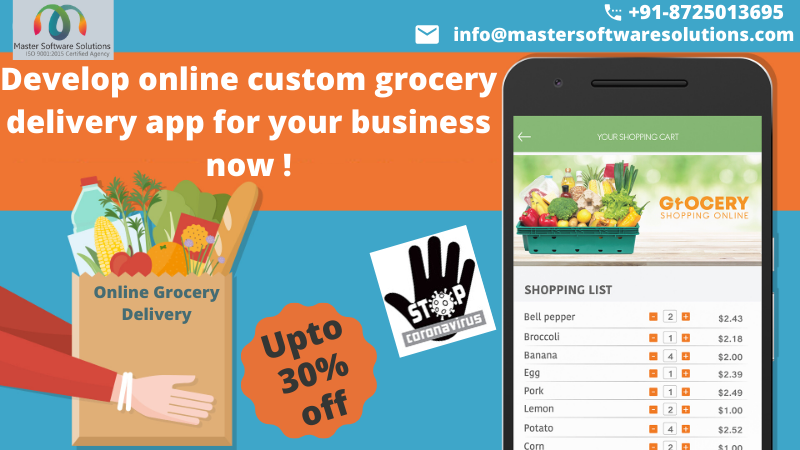 Due to coronavirus, people have had a panic for getting enough grocery items. The places with restricted movement of the citizens are offering minimal to no relaxation to buy groceries. In addition, the stores are getting out of stock too. The mismanagement in supply and demand is believed to be the reason for such problems. 
But the grocery store owners or service providers having online access like a mobile app for grocery delivery to represent their services are smoothly serving their online clients. 
What is a Mobile Grocery Delivery App?
The mobile app for grocery delivery is developed for the business owners offering grocery items. The independent panels enable them to get the orders of grocery products that are dispatched by a delivery panel to the customer's address. The whole process is managed by the admin app operable on a smartphone screen. The major panels are-
Admin App

Customers App

Delivery App
Get the Best Mobile App for Grocery Delivery to Fight with CoVID-19 
The grocery delivery app development solutions are proved as one of the most important things for business owners. Let's have a look at the points mentioned below and understand how these online solutions can help you. 
You can Get Online Orders Through Grocery Delivery App– With the help of customers panel, online users can choose the products from the list of groceries directly with a few taps. 
You Can Deliver the Grocery Products Directly To the Customers Address- The delivery experts help in dispatching the ordered items to the customer's place.
You Can Have the Accelerated Profit Graph With Grocery Delivery Apps- The situations where the business owners are fighting to get the basic livelihood from their businesses, the mobile app for grocery delivery enables you to make money.
You can Make the Business A Brand- Delivery apps enable you to make a just business into a trademark of offering services. Because it facilitates you to serve the customers in pandemic situations.
You Can Get the Payment Through In-app Payment Options- Grocery delivery app development solutions ease the transactions.  As the customers can pay for the ordered products through credit cards, debit cards, and payment gateway options.
Do you find the system helpful for your business? Do you have queries? If yes, them all and consult our experts.