Is Your Medicine Business Coronavirus Ready?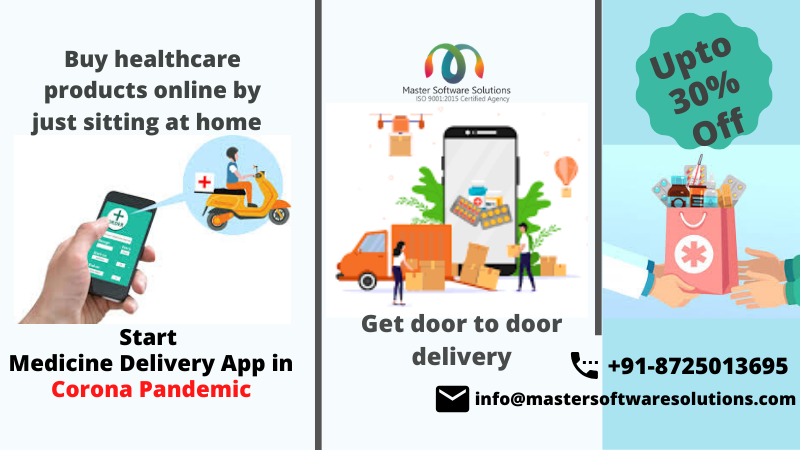 Is your pharmacy business affected due to CoVID-19? The service providers having no online platform or access to represent their medicine delivery business would definitely answer 'YES'. Obviously! The restricted movement has led the business owners to sell the drugs at a low pace. Similarly, the customers are unable to reach the pharmacies. 
What is Medicine Delivery Software?
To counter these problems, mobile development companies are offering medicine delivery app development solutions. These services are enabling pharmacists to get the medicine orders online and deliver them to the customer's doorsteps. The delivery of medicines is scheduled as per the requirement of online clients with the delivery staff. The in-built features of medicine delivery software help in managing the inventory and handling the deliveries and routes.
Get the Best Medicine Delivery App Development Solutions to Fight with CoVID-19
The robust medicine delivery software helps the pharmacists, medical store owners, etc in delivering the ordered drugs to the customers without a pause. Let's discuss how this online software makes your medical business coronavirus safe.
You can Provide Medicines With Medicine Delivery Software and promote Zero Contact Approach

– As per experts, limiting the human contact may reduce the spread of the coronavirus pandemics. The online solutions encourage loom. As delivery staff can deliver the ordered drugs to the customers placed in a bag and then follow this approach they need to step down almost one meter so that your customers can collect it.

You Can Get the Orders of Medicines Online

– Despite the features of call, the pharmacists can easily get the orders through online medicine delivery applications. The customers just need to pick and order the required medicines by tapping a few clicks.

You can Increase the Revenue with Medicine Delivery App-

More than half of the customers prefer to get the services with the help of smartphones. If you are offering some services that promote better health then surely you are going to level-up your business profits. 

GPS Positioning-

It enables you to track the location of the delivery staff. The in-app tracking system eases the work of the delivery staff as they help them to find the address of the customers.  

You Can Add/Delete the Medicines from the List Quickly with the delivery Apps-

This amazing feature allows the pharmacists to add or delete the drugs and update the availability of the products. Updating the price and categorizing them in different categories within seconds is another major benefit.
Do you want a mobile app for medicine delivery that is capable of offering services in such pandemic situations too? Yes, our experts are offering robust medicine delivery app software equipped with the latest technology.