Is Your Water Business Coronavirus Ready?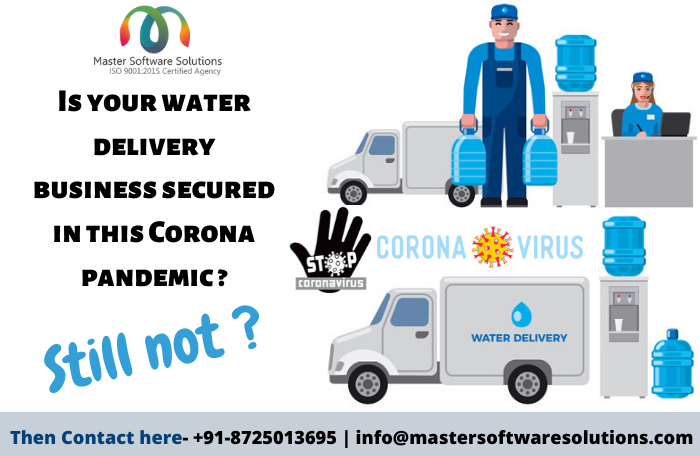 One can live without food for some days and without medicines, or other kitchen commodities too. But, is there anybody who can live without water? I think the answer would be a big NO! In the scare of a coronavirus outbreak, people into a water delivery business are affected because governments are restricting the movement of people that is also halting the customers to get the bottled water services.  
To counter this scenario, online water delivery services are helping service providers by providing bottled water to the customer's doorsteps. Here, we are going to discuss how water delivery software can help and make the delivery business corona-ready. Before that let's understand how the mobile app for water delivery actually works.
What is Bottled Water Delivery Software?
The mobile development companies have created delivery app solutions to dispatch the picked water quantity to the customer's place. Such software is enabling pharmacists to get the water orders online and deliver them to the customer's address. 
As per the instructions of customers, the delivery of water is scheduled by the service provider with the help of the delivery staff. The in-built features enable in managing the inventory and track the deliveries easily. The main panels responsible for smooth management of whole ordering and delivery are- 
Customer App-

Admin App-

Delivery App- 
Get the Best Mobile App for Water Delivery to Fight with CoVID-19 
The water delivery app development services are one of the most important articles for water bottle service providers. Read the points to know how the online mobile solution can help your water delivery business.
Water Delivery Software Helps in Getting Orders Online– The customers can order and select the size of the bottle and quantity of water through the customer panel. Therefore from the online solutions, you can get the order of the water. This is something that is required to deal with the coronavirus pandemic situation. 
Water Delivery Software Helps in Scheduling the Water Bottles Deliveries-  
Through the delivery staff, the dispatchers can deliver the water to the customer's doorsteps.
Delivery Apps Accelerate the Profits Graph of Water Business- In pandemic situations the service providers are finding ways to do the business, the water delivery software is helping you to level-up the revenue graph.
You can Make the Business A Brand- If you are delivering bottled water in the lockdown situation too that means you are offering services in the restricted areas. This would increase your customer's trust among your services.
In-app Payment Options Helps in Having Online Transactions- Payment Through – Water delivery app development solutions have eased the payments.  As your online clients can pay for the ordered bottles through debit cards, credit cards, and mobile payment gateway solutions.
Do you want to add some more features for your water delivery software? Share your queries and offer services to everyone even in the lockdown situations too.