Uber for Haircuts: Keep an eye on these 3 Important Solutions while Creating On-demand Apps for Haircuts!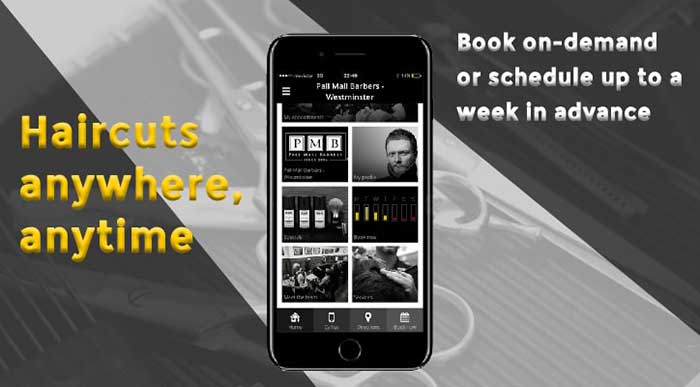 "This app and its FOUNDERS are awesome!" Something that defines your haircut business as well as the design of the app for your salon and haircut services.
Well, it's the dream of every founder to get awesome client reviews when the app goes live on the App Store or Google PlayStore. So, every founder-to-be or an existing hair & beauty salon owners need services from an expert best beauty salon mobile app development company in Canada or elsewhere.
People are just demanding anything to everything for which they have to travel to places themselves or have to wait in queues to get their work done. Haircuts on demand are the most in-trend thing these days. Then, there are special benefits…
The clients need not wait. So does you.
Sounds like wow. Isn't it? And the barbers are not in a hurry, every barber at special booked service through the app gets enough time to give consultation on the cuts and styles to the customers who have booked the service at their home or workplace before the actual haircut begins. It is very important that the vision of the style is pretty clear so that there are no bad tantrums afterward. After all, it is very difficult to correct things on mistakenly chopped hair. Too much hurry on services like haircuts makes things pretty hard to understand in the rush hour or peak times in the barbershop.
Whether you offer services at the shop, you will always make amazing profits when you start mobile services through the best salon app for Android and iOS as well. So, it completely makes sense to get an on-demand hair salon application.
Loyalty Cards for Clients:
Give a reason to your employees to come back to your app to book for every next time they need a hair or beauty service. Is it possible?
Well, yes. Integrating the loyalty card feature in the mobile apps for beauty salon by a salon app development company in Canada- is the key to successfully getting clients time and again. It may become quite difficult to get clients again if there are hard competitors. You have to give reasons to the customers or app users to use your app, that one reason is using the loyalty card for sure. Giving benchmarks or milestones before your customers can access their loyalty card gives you enough business. And that is what you want after you have invested in getting the salon booking app to earn even more money and get even more customers.
Free Haircut of the Week:
You will be surprised to note that owners of the most successful apps go on with the idea of freebies to garner attention from the customers. Everyone has their own idea or concept to get clients to use their service once so that they are able to give them even better services again. Client retention is very very important,
Free haircuts…Anyone? Of course, people love free haircuts and when you say… "Download the app and get your first haircut FREE". Woah!
Why would anyone not come to you for the services that they have always dreamt of, that too for free of cost? That works. Also, give a smooth flow of on-boarding the app when the users download your app and guide them to booking their first-ever free haircut if you are an advocate of Uber for Haircuts– things will be even easier and interesting. We are talking about mobile services, you know!
Product Shopping:
Have you ever given a thought that you have an amazing opportunity to transform your business completely by adding a product shopping feature to your on-demand custom beauty and hair salon app development solution for your beauty and hair services?
If you are the owner of a salon in Canada or the USA or any part of the world, you hold an amazing opportunity to sell your salon products to the customers who visit you for services or whom you visit to deliver services at home or a workplace. With shopping and cart features, or eCommerce- as we call it, you can make money on the retail prices and sell your best products online while delivering them through your riders.
SALE & Discounts:
When you have the products, you are able to make use of every marketing trick to sell your products at the best prices. Online beauty salon app builders know how to integrate eCommerce development features into the app for the best ROI from the app.
Our Final Take:
To conclude on the bright side of the salon & beauty business, we would emphasize that getting an on-demand haircut app or on-demand beauty app is pretty essential. We talked about why you should, and what are the must-have features to let you benefit the most!