Best On-Demand Food Delivery Apps Development & Solutions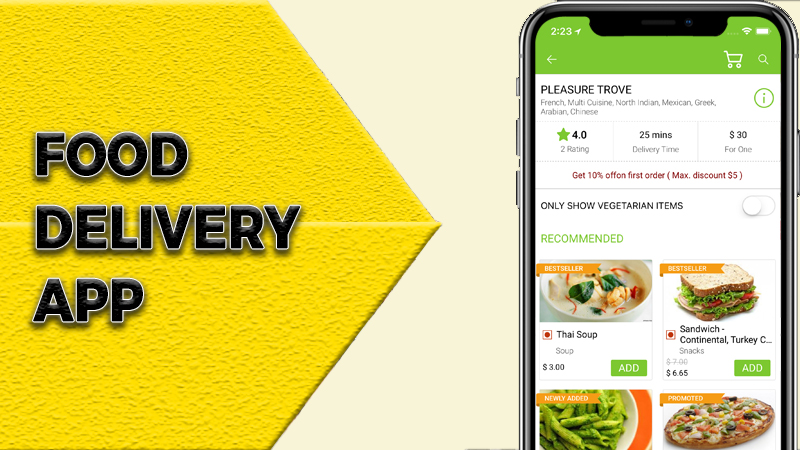 We love meals, delivered at the door, just in time for dinner.
Do you own a restaurant, offering fine French cuisine? Are you a proud owner of a South-Asian food corner in a popular street of Windsor? Well, who doesn't love a delicious meal anytime or just every time? Even if you are a to-be-founder of an app like UberEats, you are in.
You sell the best desserts in Canada that sell like hotcakes- What the cheesecake! you make and people want to take it home or get it delivered fast asap. How about taking a step forward and go with hiring the best on-demand food delivery app development company in Canada or any part of the world you exist. Don't be doubtful as-
Getting a food delivery app- What we believe is… the birthright of every other food corner or a food chain, restaurant and a hotel. Make your dreams come true by building an on-demand food delivery app-like Uber and see the revolutionary transformation in the core business profits that you will get after you bring your business online. Revolutionary changes- Mark it.
Is On-Demand Food Delivery App Development Rocket Science?
Definitely not.
But, it doesn't mean that you can build your own food delivery app without hiring an on-demand food delivery app development company with real experts to handle all the design and development processes- Right from wireframe designing, finalizing the design according to customer requirements of your business, to the coding part. It doesn't end here. There is an extreme significance of the processes after coding and that is testing or quality analysis. Quality Analysis plays a major role in ensuring that the food on-demand app created is devoid of any kind of error or bugs that can move away from the users. Nobody wants that. Ever!
So, What goes into making an On-demand Food Delivery App Successful?
To get things right on the track from start to finish takes an infinite amount of patience along with the knowledge that comes with expertise. What actually matters is the technical expertise of the food delivery app builder in Canada or any nook and corner of the world where you reside and hire the company online or offline.
Great Food should have a Great App:
You know your food well. Kudos. It is straight that you should know the quality of the on-demand food delivery app too- VERY WELL.
If you compromise over the budget and things that don't let you reach your goal of owning a great app, things will not work in a way you have thought them. An awesome team of a dedicated on-demand food delivery app development company in Canada knows well what technology works and how should it be implemented into the app.
Meet User Expectations:
How about you create an app and still not able to meet the expectations of the app users who order through the app? It is really bad. An app is meant to tap the benefits that you earlier are not able to grab. These things are well known by a food on-demand app development company that knows the knicks and knacks of developing a successful app for delivering food.
Lightning Fast Delivery Services:
Offering lightning fast delivery services to the users of the app is very essential. It means you have to offer the best ever services to ensure that the users who book from your app know well that the food will surely reach them on time. Moreover, the delivery and tracking feature should be very well integrated into the app for the best user experience in the on-demand app for food delivery.
Smooth Payment Gateway:
Smooth payment gateway integration is most probably the most important factor as it helps to convert the app users into real paying customers.
Do you want real customers who "pay"? Make sure that the payment page is as smooth as butter or you can lose your leads. Make sure the company you hire for your app development process has enough expertise in putting various modes of payment into the app.
GPS Navigation for Tracking:
People love to track. So it is the most needed feature in the on-demand food delivery apps for Android or iOS these days. With the GPS navigation and people able to track the riders coming from the restaurants, they feel excited about their orders.
Moreover, GPS navigation is very necessary for the riders to reach the food at the correct drop-off location. Thus, saving a lot of time!
Prompt Customer Care Services:
A food delivery app development company that offers app development processes which has amazing customer care services will always be successful. What people need is the instant customer care services in case they are stuck at using the app or the order goes unconfirmed or the order runs late. What people want is customer care only.
App free from Crashes & Bugs:
Oh, Snap! We all hate it. But it happens. Still, the chances of your app going offline if it is not working well. Bugs and errors still again make the app inaccessible. This can mean big losses in the business. So, it is very important that the app is free from crashes and bugs. This can only happen if you hire an expert company.
To Conclude-
Witness the transformation. An app made by dedicated mobile app developers of an on-demand food delivery app development company will always make sure that the integrated features are phenomenal.