Top Features to Add in an On-demand Food Ordering App
In this fast running and busy world, we all wanted to have things quickly without any hassle. If we talk about the food then it is the craziest thing that people have this funny habit of trying new and different cuisines every day. To fulfill the increasing demand food ordering apps are not a new concept in the market. Especially in the age of coronavirus. But the features are definitely a key that makes or breaks a food business easily.
What Are the Key Features of an On-Demand Food Ordering App?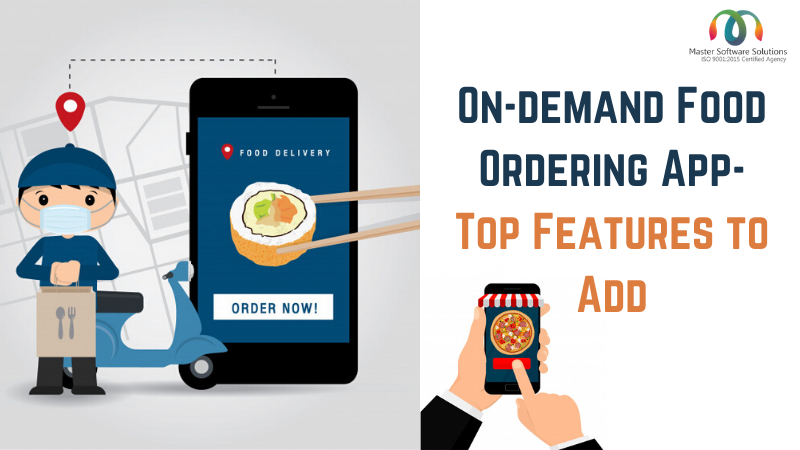 A Complete List Of Food Items that You Are Offering in Your Menu-
Today the foodservice providers are not just stiff to a particular cuisine. To expand the customer base, they test and try new things into their food menu. Besides this, instead of sticking to an area, the owners try to target new places to increase the count of consumers. If we talk about online food services, there are several areas where food delivery apps are offering different cuisines that may include Chinese, Thai, Indian food, and much more. 
Therefore, it is always recommended to mention the food with complete detail such as- included ingredient, price of the food item (also mentioning excluding tax or including tax, etc), in a food ordering app development solution. This enables your customers to choose the required food items easily. Otherwise, they would either switch to another food ordering app solution or simply left some poor reviews for the online food service.
Enable Customers to Order Food With A Few Tabs On the Screen-
It has been seen many a time that the online food ordering applications are so tech-savvy that it consumes a lot of time to order a food item- which is completely unacceptable and may lead to failure of online delivery services for the food business. From ordering a meal to getting them right in front of their door – the time should not extend much.  Again which is negative feedback among customers. Plus, it is necessary to add price tags with each salon service you are providing.
Put Some Tempting Images-
We humans eat with our eyes first. The good quality of images may do magic to your online food ordering services. Because visuals of the food or anything impacts more than just written in words. Representation of meals should be made properly which would help you in explaining your service in a better way and may increase sales. 
Push Notifications
– 
This is the most important feature in the online food delivery apps whereas it becomes a key feature in every mobile ordering app solution. This feature enables the customers to get new updates regarding the services, the price of the food items, discount on a food item, and the addition of a new food product. Moreover, it enables you to broadcast any new service to your customers, etc.
Online Offers/Discounts-
There are numerous such customers who can't cook or don't know cooking or are so busy that they prefer to order food from online ordering applications. Such people always look for offers or discounts while placing food orders. Therefore, for such online customers, an online offer or coupon option is the best feature where you can give offers to your loyal customers. It is not only the best way to add up in the marketing stunts but also to accelerate awareness about your food services. It just acts as the icing on the cake. Besides, as per the study, this feature increases the sales quickly.
Online Payment Options-
How can you miss this masterpiece? Another imperative feature to add in the food ordering app that it has made all transactions online. The online multiple payment options offer ease of payment to the online users as well as the service providers too. Online payment is the easiest and safest way to transfer money after placing food orders within seconds. The options may include- credit cards, debit cards, multiple mobile payment gateways, etc. 
Importance of Adding Key Features in On-demand Food Ordering App-
These days, tones of food ordering app solutions are floating on the Internet. From the day the food sector entered the online ordering services, immense competition has been seen to date. Everyone is doing efforts to make their online food app more attractive and customer-centric. To have a flexible, robust mobile food app, it is important to add powerful features. You can discuss them with the app builders to get to know them more clearly especially for your food business.
Are You Looking For The Best Food Ordering App?
Do you want the top food ordering app? Don't know what features suit your food business? If your answer is yes, then contact us. Our food app development company has the topmost food application developers who will help you in developing the most desired ordering option by using new and innovative technology.