Build Your Own Grocery Delivery App by the Industry Experts
In a world where everyone is finding ways to come over the losses caused by coronavirus or the prolonged lockdown, grocery delivery which is an inevitable thing of our daily routine are finding new ways of delivering systems equipped with new advanced technologies. Through these grocery app development solutions, the business is thriving in the market. On-demand grocery delivery apps are revolutionizing the whole industry. Apart from various well-known mobile apps for the grocery business, the industry is flourishing and expanding its boundaries with the arrival of new applications.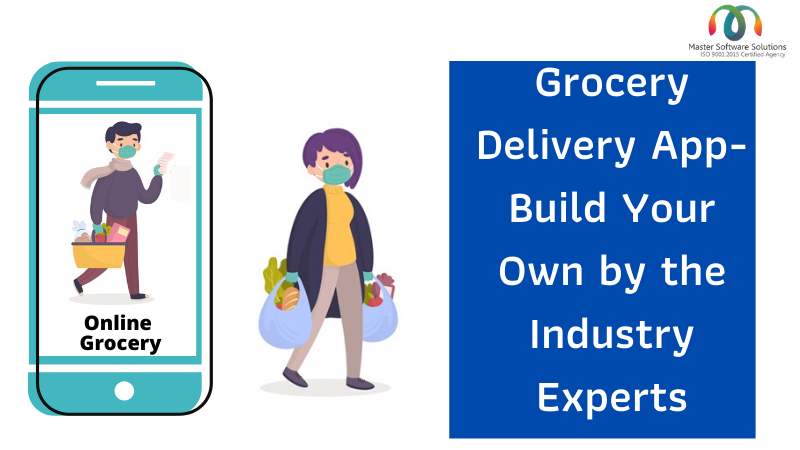 New grocery delivery startups are struggling to stay alive in the competition. Various challenges are there that the grocery store owners or supermarket owners need to fight against to have a unique grocery delivery service. Here, in this blog, we are going to discuss some of the tips that you just need to know if you are going to develop your own grocery delivery app. 
Tips for Building and Promoting Grocery Delivery Apps
–
Choose the Right Target Audience
–
Usually, grocery delivery startups start with the assumption that the customers need different grocery items and the ease and benefit of delivering the ordered products to the customers' doorstep, but a startup business goes beyond that. It is very important to find something that helps in targeting the maximum customers.
For example- In the grocery delivery sector, there are several kinds of services that you can offer through online delivery services – you can categorize some groceries on the basis of brands, price, and other daily usage commodities. The categorization depends on the necessities of the customers so that you can cover a huge chunk of the audience through your online grocery delivery.
Include Numerous Choices-
It has been seen that if the customers don't find the required grocery items they just switch to other delivery software. Therefore, it is always recommended to list the grocery items having low as well as high price tags so that everyone can select and get it delivered to their door. If you are delivering groceries to a distant place then it is recommended that you must also tie-ups with other grocery stores also. It enables you to get orders from the consumers even if your supermarket is out of stock for a particular item. 
There are many such online grocery apps that are supplying farm produce also. All they need to do is to contact them directly. Whenever they have the fresh stock of vegetables or fruits, you just need to add that item into the list of categories in the grocery delivery apps. Therefore, it is another way to expand your business and get more profits through online grocery delivery services.
Must Discuss the Delivery Ways –
If you are getting online grocery orders then you need to plan for the delivery. Delivery means, and of course the delivery experts too. After all, you are going to own online grocery delivery services. Hence, decide whether you are going to have drivers on payroll or contract basis. Basically, there are two primary ways that owners hire delivery experts, they are-
Hiring your own complete fleet to dispatch the orders

Choose them on a contractual basis.

on-demand courier fleet
Depending on the size of the area you are going to offer online delivery of groceries, the population of the area, competition in the market are some of the things that may help to choose the option. The delivery vehicle is another major concern that you need to discuss. Then fixing the price of items that are equal or less than your competitors but also cover the delivery charges too- though it is a challenging aspect. You can talk to our experts.  
Select the Right Choice of Features for Online Grocery Apps-
Almost all online grocery delivery services have individual app panels for online users such as- grocery store owners, drivers, and consumers. Therefore, these three panels are inevitable for a successful grocery delivery app solution in the market. Apart from these, every app must have the required features that help them to make it a user-friendly and business-friendly grocery delivery software.
Read More- To Know the Key Features of Grocery Delivery App
Develop The Best Grocery Delivery App for A Startup-
Developing a flexible grocery delivery app is not everybody's cup of tea. To develop a successful online delivery option for the grocery delivery app, it must be quick, affordable, and customer-centric. To know more, just discuss it with our experts.