Features to Develop the Best Grocery Delivery App
Some people love to order groceries while for others it's the most annoying thing. Whatever the reason is, grocery shopping is the need. We all need them. With the online grocery app development solutions, now groceries are available at our doorsteps. Besides, to develop the best grocery ordering and the delivery app becomes necessary and there is a great competition in the market among the service providers too. 
On-demand Grocery Apps- 
The on-demand mobile solutions developed for a grocery business are built for many reasons. The foremost reason is they offer benefits to every class of the society such as- grocery store owners and online users, supermarket owners.
This mobile app is categorized in such a way that accords benefit to each and everybody. In general, the app has three panels which are based on the basis of users. For example- 
Fundamental Features of Grocery Delivery Apps-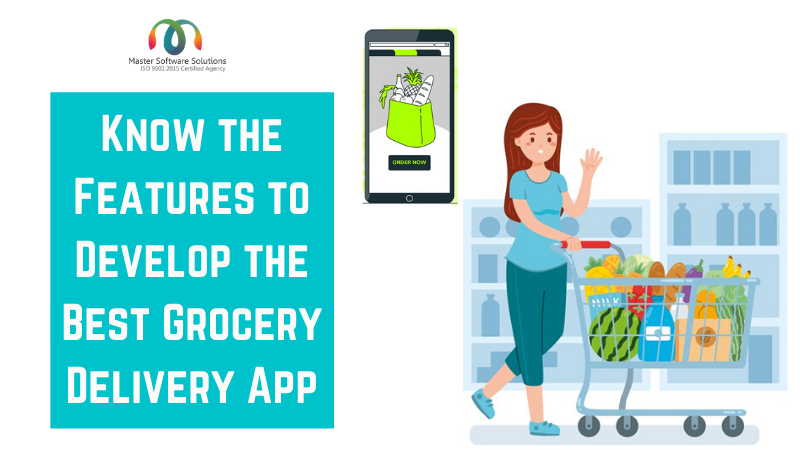 In-app Tracking System
– 
The grocery ordering apps have a tracking system that takes the help of GPS. This feature has gained a lot of popularity because of these benefits not just in grocery delivery software but also in other delivery applications. 
As it allows the online customers to get to know the real-time location of their ordered groceries. Similarly, the delivery staff can locate the address of customers easily without calling them.

This will definitely increase the productivity of the grocery business, as you can track your delivery staff and can estimate the spent time. Further, you can use the data to find out more efficient ways to increase productivity.

This feature enables the service providers to organize your timings and improves your business efficiency. 
In-app Payment Options- 
the in-built payment feature, allows the online users to pay for the ordered grocery items through online grocery ordering applications. 
Multiple payment options such as- Master Cards, Visa Cards, online mobile payment gateways options, etc have made the online grocery apps more flexible to use.
As per the data, online users up to the age of 35 use online payment options for the transactions as they find this option easier. The online multiple payment options are the safest and quickest ways of payment that are encrypted with various security measures.
Push Notifications
– 
Another feature that increases sales within no time. According to grocery store owners, with push notifications, the difference in the sales can be seen clearly. On weekends, festive seasons, owners send various alert messages regarding deals or discounts on different grocery products to their consumers that help in accelerating sales.
Proper listing of Grocery Products
– 
In grocery, the products should be categorized in a systematic way to ease online consumers. Additionally, the proper listing of products in grocery shopping apps helps in increasing sales and boost profits. 
Wrapping Up
–
In a nutshell, don't let your grocery business slip-away in this competitive world. No matter what you do, keep in mind you always take care of work operations and customers. Use new and advanced grocery delivery app development solutions. To know more, just discuss with the online delivery app developers.