What Are the Top Android Application Development Trends for 2020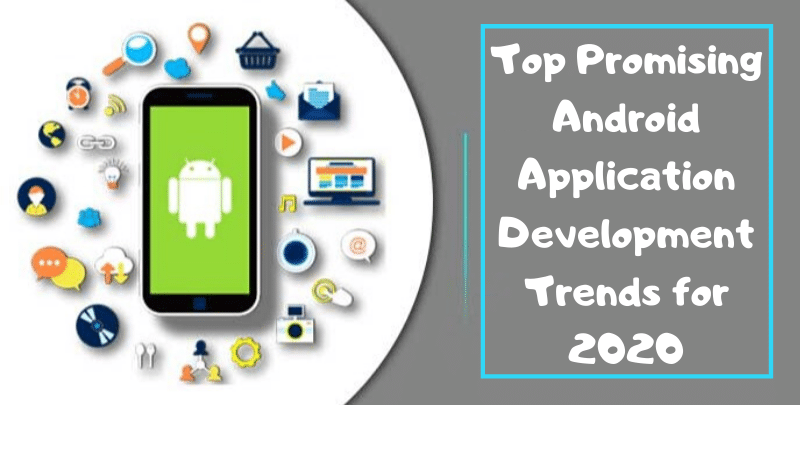 The world of application development would be exciting as we are stepping into the year 2020. The new technology that is benefiting our lives in a new way has made smartphones an indispensable component. 
Whether you are a developer, or a company or looking for an android app development solution for your startup business, you must go through the following development trends given in this blog. Before beginning the trends let's have a look at the facts and figures and future growth given in several journals.
The mobile app development industry is booming all over the world. The rapid growth in this field would produce 581 billion US dollars in revenue by 2020 as per the Statista's data. 
The Best Android App Development Trends of 2020-
How to Develop Android Application for Foldable Screens- 

Samsung has announced to come up with the foldable OLED display early this year. To improve the user experience, experts in Android development are emphasizing on creating new solutions by using advanced technologies. In 2018, Google made an announcement to support Android phones for foldable screens by practicing 'screen continuity' APIs. 
In the coming year, the foldable phones are going to be the most 'in' thing not only in a certain country but globally. Because with these kinds of gadgets, one can easily enjoy operating multiple screens once at a time. Therefore, to cope up with all these things planning to develop Android applications should be flawless. 
What Are Android Instant Apps

– Initially, instant apps were made by Google in the year 2016. If comparing with the regular ones, the concept of instant native solutions is smaller in size. As the name implies, users can quickly reach over it, as these solutions allow customers to use them without even installing them.  
These types of applications are taking a front seat in the trends of Android app development solutions and yes the position would not be easily be shaken or displayed in the future too. 
As per the data of Hollar and NYTimes- by deploying the instant applications, the conversion rate has been increased to 20- 27 percent.
Experts are embracing the instant online solutions in the 2020 trends because today, smartphone users are looking for an awesome UX that require shorter loading times. And with these options, the installation timings can be removed completely. 
How to Embed New Technologies (Artificial Intelligence and Machine Learning) in Android Applications– Indeed technologies like Artificial Intelligence and Machine Learning (AI & ML) are making buzz worldwide to advance Android app development. The outcomes of these technologies are unpredictable. But yes, it can do what our human mind can do just in our imagination.  All it requires is to have input data to feed and with the internal tools and practice, you can easily have the unimaginable output. 
To understand this trend, let's begin with an example- if you are close to the technology then you must have seen the online solutions in which you need to upload your picture and how you would look in the older age can easily be seen within seconds. All is possible due to Artificial Intelligence. Such online solutions are making huge revenue.
For Android app development trends, AI technology made it possible to get text recognition, image processing, face recognition, scanning barcode, text recognition, and many more- All made possible due to the tools and functionality. 
What is Google's Jetpack?
Google announced it's the advanced and modern suite of libraries, tools, hits for developers to develop productive Android applications. This jetpack is helping the experts to remove various issues and helps in maintaining backward compatibility and managing mobile solutions etc. The components are the most helpful thing that includes- behaviors, UI, foundation, and architecture.
Why There is Rise in Chatbots– Inserting the chatbot is one of the most important Android application development trends of 2020 liked by the customers because they get instant and accurate replies to their queries. For various business types, chatbots are considered as one of the indispensable features of Android solutions. Some of the common examples of these types are-  delivery solutions, e-commerce software, online solutions for car booking, etc. Because instead of calling, users can get the answers to their issues on texting to the service providers. 
According to the states, more than 63% of users love to interact with this trend. 
According to Gartner, chatbots would save 8 billion US dollars for companies from 2018 to 2020.
How Blockchain Technology is Being Used in Android Apps- (also known as decentralized apps)- This technology is already used in various online solutions for payment. With the constant efforts of the experts, this is being used for transactions. Many service providers are already using it for paying sum because according to the experts it is the most secure way for transactions which is also known as decentralized apps. In the future, it is expected that blockchain would replace multiple online payment options. 
What to Do To Increase Security in Apps– 
Security is the most sensitive thing for users. These days, due to increasing hacking problems, many tech giants have lost their customer's trust because of information leaks. And Facebook has paid for it as in 2018 the shares dell by 8.5% as it was found guilty in breaching data. Either it is Facebook or Google- to make the entered information more secure it is very important to remove the security lapses by investing more in cybersecurity.   
Final Words-
Everybody wants to stand out of the line while offering services online. This is the main reason owners prefer to hire mobile application developers who are well aware of these Android app trends. If you want to discuss anything about your online solution, just reach out to experts of the industry Or, contact our top mobile application development company.