Why Salons Need a Mobile App for Beauty salon
Do you own a beauty salon or wellness center or chain of spa and salon services? If yes, you must use the latest marketing trends to make money. 
The mobile apps for spa and salon services are developed to make money. Either you own a simple beauty parlor, spa and massage center or a salon shop with employees count in double-figure – the salon mobile app proves to be used beneficially for the users and worth to own in every way. Retaining customers, increasing the revenue graph are some of the points that create a great difference. 
As per the certain spa and salon services owners as well as the service providers of beauty and hair service providers, there are many problems that are generally conceived and hard to counter with old and traditional ways. These problems can easily be counter with salon mobile apps. But how? How can these options solve the problem? Is there any need for developing a mobile app for spa and salon services?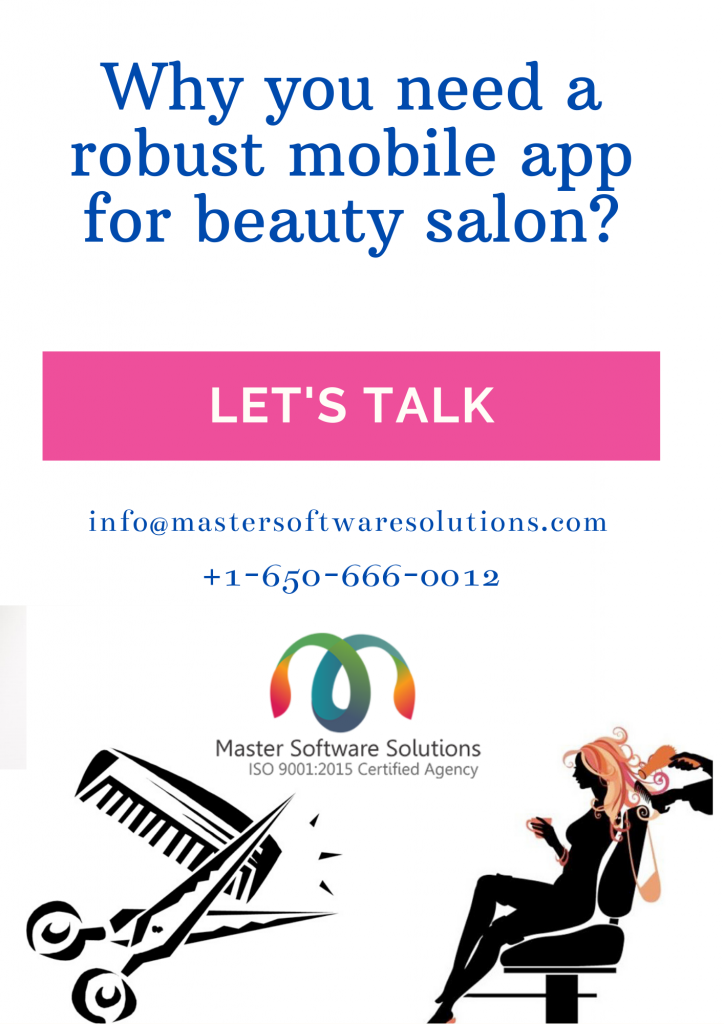 Why Salons and Spa Centers Need a Mobile App?
Lack of communication means and ways to showcase the services are the major turn-off for any business, especially for the salon sector. The poor management system is another big turn-off. All these things may result in decreasing the clients as they would like to switch to other beauty and salon services. But, the salon appointment app can really prove to be beneficial to target the useful and desirable audience. 
In this blog, we have mentioned some of the reasons to develop a mobile app for spa and salon service centers. Read them to know how you can change things for the better for your salon.
Salon App Helps in Booking Appointment Within Seconds-

There are hundreds to thousands of customers love to visit the wellness centers. But nobody doesn't like to sit ideal just to wait for their turn in the waiting lounge.  This common problem has been efficiently sorted with the help of mobile applications as they allow the clients to schedule their bookings through online software by clicking a few taps. 

Salon Apps Remove the Calling Trend-

A few years back, people usually use phones to book an appointment. Sometimes, due to miscommunication, it results in some kind of problem. Hence instead of having customer's trust, the owners usually lose their loyal clients too. Hence, the hassle of making or attending calls to make the customers aware of the services can be made easy with this online software. It is easy for the customers too that they can read the services and price of the package in the description of the package. In the end, it is a total win-win option for the customers as well as for the owner of the service providers. 

A Mobile App for Beauty Salon Shows the Complete List of Services

– Imagine! If all your services are displayed on a single screen that is just one click away from your customers- Who would not be interested to have such a kind of online solution. I think everybody would love to own it.

Hassle-Free In-app Payments-

The categories of spa, beauty, hair, treatments, therapies, and salon services are vast. They are changed with the inclusion of the new trends and of course, their rate list changes with time. The application allows users to pay online for scheduling bookings through multiple payment modes. The options may include the credit card, debit cards, and mobile payment gateways, etc. Getting the payments and getting the calculations done with the help of online software is such a blessing as per the owners who are already using them.

Owners Can Manage the Complete Salon Business With a Mobile App-

Imagine a whole business image is on your fingertips. You can manage and track the whole business with the dashboard. 
There are so many services related to this business- haircuts, treatments, beauty-related services, spa, salon treatments, therapies, etc are some of them. They can be individually categorized into various categories. Getting the record of each service with a description on paper is really hard and nearly impossible. The online options support in streamlining the services and related-record in a synchronized way that further offers efficient and smooth services.
People generally came to groom themselves and to relax, therefore it's the responsibility of the salon owners to sort their services and their packages up-to-date. All this is possible with the help of a feature-rich salon appointment app.
Conclusion
The smartphone is 'in' and people love to use it for shopping, bookings, gaming, etc. This is one of the reasons the service providers or entrepreneurs are considering them their foremost priority of representing their services. Of course, the reasons are genuine and worth considering too. It has become the most integral part of today's world.