How To Implement Artificial Intelligence In Mobile App Development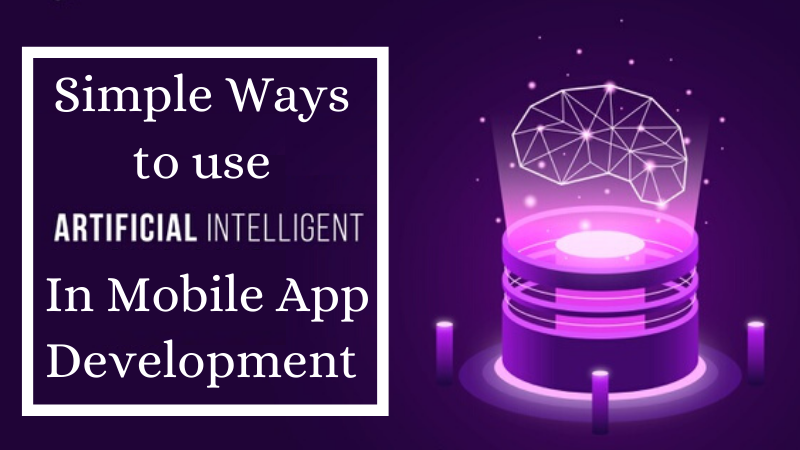 Artificial Intelligence is one of the most demanding and leading technology that is being used by developers for various businesses. The technology is on the boom for mobile app development not just in specific parts but worldwide. Whenever somebody asks for future technologies, AI's name tops the list. It is helping people in improving relations, enhancing the growth of the firms, and much more. 
Interestingly, this rapidly growing arena is helping almost every sphere of the business. But how artificial intelligence can be implemented in mobile app development services and how it is being used currently? To understand it in a meaningful way, let's Before discussing these parts, let's have a look at what AI is? 
What is Artificial Intelligence?
If explaining it in the simplest way, it is the way through which a system can copy human behavior in an intelligent way or have human-like intelligence and make independent decisions accordingly. It is a branch of science, in which a group of computers behaves like humans make decisions as humans take. Just like humans, the systems are being trained with input data and make them behave like that. 
The technology helps the businesses in manipulating things, do human-like tasks, solve problems, reasons and react as per the data added in it. Artificial intelligence can be subcategorized into other terms that open up the way for new innovations. It may include- 
General Intelligence

Expert Systems (ES)

Robotics
Future of AI
Undoubtedly, the future of AI is too bright. As per the researchers, 70 % of businesses would turn toward artificial intelligence technology by the year 2030. 
How AI is Helping Us?
You must be confused about how artificial intelligence can help you or where you are using it. Let's discuss it.
Do you know! Most of the tech giants we are taking services from are already using this technology. Read below to know-how. 
Gmail-

Whenever you write up an mail or reply to somebody, Gmail helps its customer to answer with the 'Smart replies'. With the help of AI, this tech giant has made the use easy for its users. 

Indeed-

Whenever a candidate registers a profile on indeed for finding a job or to find a suitable employee for the firm, it shows some existing profiles. How it helps you? Again the technology is behind the results we all get. Therefore, it assists in finding desirable profiles. 

Pinterest-

This is the platform that works on pictures or images. The technology assists in identifying the different objects in an image.

Facebook-

Have you heard about 'protective detection' tool, it is an AI's tool that helps the users to protect the images and videos of the users. Instagram has also introduced this tool. 

Google-

While searching something on Google, you just write one or two words and it shows related searches below that. You must have observed it and perhaps the picture would be in front of your eyes too. This is known as 'predictive research' which means it can predict things in advance before writing the whole sentence for search.

Amazon-

Every time you search something on the online application, it recommends products. Do you know, the secret behind this? The Artificial Intelligence embedded inside recommends it according to your previous research.
Implementation of AI In Mobile App Development Services-
More than half of the people are not aware of the technology and half of them do not know about Artificial Intelligence. As discussed above, there are so many aspects through which AI can be implemented. 
How NLP Can Help App Development Services-

The mobile applications that help in customer services, like- generating reports, to review the market trends; the Natural Language Generation helps in processing the data. Basically, the system converts the data into raw English, which means everything that comes to it, the software writes up a story. It helps in increasing human engagements in the services. 

How Speech Recognition Technology is Boosting Mobile Development Services?
This is the most popular technology that is supporting the application development world through interactive voice control systems. You must be aware of Apple's Siri and Amazon's Alexa that work as per the voice command. It decodes the human's voice and without using a keyword or any other peripherals, you can perform the tasks. 
How Machine Learning is Supporting App Development Services?
Whenever the marketers require to develop a certain type of mobile application. They gather the data, analyze them and then choose the features for the applications according to that. All these things need a lot of time, Al helps in forecasting such types of services. Amazon, Facebook, Netflix are some of the well-known examples that are using AI. 
What is the Role of Biometrics?
It enables the user to recognize, regulate and examine the behavior and physical aspects & shape of the body of an individual with the help of the pictures, gestures, voice recognition to use the mobile applications. According to experts, it is one of the most used foolproof methods to lock or unlock the devices and to have transactions. The information can be secured with this technology. 
How Mobile applications can Answer the Query of Customers with AI? 
The answer to this question is 'chatbot'. It is an AI's system that can replace a human's presence through voice replies, text messages or both. In the messaging applications, this type of technology is being used. Some of the Known examples are- Google, Microsoft, IBM, Amazon, etc.
In short, AI is all about to develop mobile applications that offer advanced-level security, research, to show relevant Ads after predicting the user's behavior. The continuous advancements are opening new and exciting ways for business owners. If you want to implement artificial intelligence in your business, discuss it with our expert developers.