White-label Taxi Solution for your Taxi Dispatch Company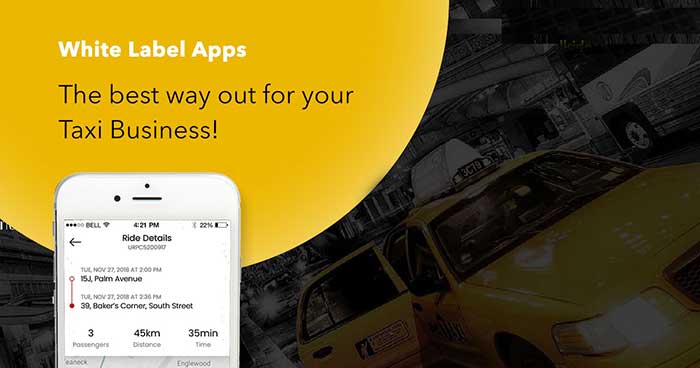 Investing into getting a taxi app solution from a taxi app development company Canada or anywhere else- Means you are giving wings to your business to reach higher number of customers. Limited time to taxi business owners means they are in need of an out-of-the-box solution like white label taxi app solutions that promise very low TTM (Time to Market) as compared to building taxi apps from scratch.
What exactly are White Label Taxi App Solutions?
"White Label" is an old term which was coined for white label CDs, purchased by DJs and sold under their own brand name. But, the trend caught fire and spread into other industries too. White label taxi apps development companies in Canada are a boon for taxi service providers because these development agencies know well the value of time and market trends.Simply put, white labelling can be referred to as "rebranding". It means much less time will be needed to take the product to the market as compared to customized solutions from scratch.
Well, if you are still thinking whether or not to spend bucks into readymade software, you should continue to read to find out the jaw dropping benefits of these white label taxi booking app development solutions and why they are trending in the market among the taxi business owners.
Why White Label Taxi Dispatch Solutions are Trending?
You will be surprised to know that the most famous cosmetics brand owners take the refuge of white label companies who do the "wrapping and rebranding" for them to take advantage of certain trends in the market.
Here is why best white label taxi app solutions are in demand:
Reason #1The owners are able to take the products in the market with lightning fast speed and defeat the competitors easily- making tons of money!
Reason #2 The headache of brainstorming sessions and thinking of ideas is pulled away as there are readymade ideas and solutions with other companies.
Reason #3 You are saved from spending hefty amount of money and time. White label taxi dispatch helps save time on waiting for months for development.
Uber Clone App For Taxi Business is definitely a must-have for your taxi service provider company, in lack of which your business is bound to suffer in this digitized businesses. Companies like Uber knew it well what is the tough spot of the people who have smartphones. They'd always wanted to minimise hassle for the people and maximize the benefits from their app.
Similarly, you have to take care of some of the other things to make sure that your investment doesn't go in vain.
When most people are searching for "where to purchase the best white-label Uber clone software for your business?",you should also get in the league to follow in the footsteps of successful online taxi booking app development for sure.
5 Top Taxi Booking App Development Solutions Secrets:
The best part about white labelling is that whatever time is taken, it is for the rebranding part- Just go with your logo and server details & your own taxi app development solution is ready to be launched in the market.
By every means, it is the most quickest way of online booking app solution especially if you don't want to delay your app launch.
Think about the USP:
When you have the complete solution with you, all you need to think is the USP that will make your app stand out from the rest and doesn't even look like as it's "rebranded". The success lies in the illusion that the best taxi app development company in Canada or the USA works on making the software as "branded" as the app from scratch looks like. This much time should be put into making the app the best white label taxi app ever.
Integrating GPS:
Integrating GPS and maps into the app means you have the key to successful app. Without letting the app users take the benefits of location tracking of the driver when he is arriving to the pick-up location, your app will be a complete failure. The drivers should also be able to navigate their way to the pick-up and drop-off location.
Cash & Card Payment:
If you compromise over the modes of payment, you will see your business suffer, so every expert company will convince you to integrate maximum payment modes into the app along with cash mode. Passengers should feel free to pay to the drivers in cash or online using eWallet or credit/ debit card.
High Level of Scalability:
Yet another thing that is very important in a white label taxi software for online booking app solution is the high level of scalability and flexibility that would be required in the future when you add to the fleet of the vehicles/ taxis. Of course, would you like to limit your profit just because of restricted features of the app?
Branding it Right:
So, when you have already saved so much time on the development of the online taxi booking app development, you should do the hard work on branding the app correctly. Think about a suitable logo, perfect colors, visualisation and other UI elements and launch it right!
Summary:
For every taxi dispatch company or taxi agency, there is a need to make the presence of your business count "online". Online exposure to business brings many advantages which is simply impossible without hiring a taxi mobile app development company Canada or UK with the right kind of expertise.