White Label Mobile App for Car-Wash Business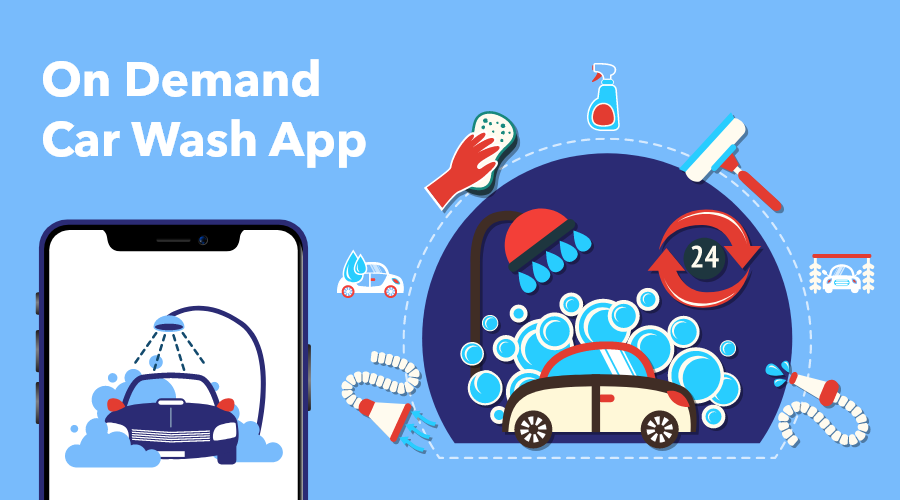 In this technical world, many businesses are coming in the race of developing various online solutions. Owners of car wash businesses are now taking entry in the mobile and web world through these online options. Now, they are looking for White-label mobile apps for their cleaning service centers. People are well aware of these online options but many get confused while hearing the word 'white label'.
Not just in the car cleaning industry, the white label is a trend of this online market of almost every sphere. Let's have a look at this class, how it can help the service providers in the best way and the reasons people prefer to choose it for their business.
What Does White-Label Means?
In this blog, we will make sure you to explain everything in the most simple and in the best way. Let's consider an example- If one company has made a specific product and another company wants that same kind of product with a different appearance, logo, etc then that same kind of new product is known as a white label.
Therefore, this buzz is now common in every type of market. Due to the increasing demand and usage of advanced technology, companies are creating such options for various sectors and selling them multiple times by using diverse brand names with the ideal licenses.
What is White-Label Car Wash Mobile Applications?
Basically, the car cleaning applications have reduced the gap between the service seekers as well as the agency owners. As the vehicle detailing agency owner can showcase their services online and get the payments through multiple payment options.
On the other hand, customers can easily choose any kind of packages just by tapping a few clicks on the screen. Developers create three different panels ideal for different users. For example-
Admin Panel
Experts (washers/cleaner) Panel
Customer Panel
To know more, click here
Why Do People Prefer White Label Mobile Apps for Car Detailing Agencies?
The car cleaning services solution has gained a lot of popularity in the past couple of years due to its easiness it provides, benefits, and features. As today people (agency owners as well as customers) become aware of the online market that can only be covered with these vehicle-cleaning mobile solutions.
A white label option helps in recognizing a particular brand due to its advanced features. Due to this, it becomes too easy for the owner to market the brand on the online platform.
These solutions enable clients to choose an expert for cleaning purposes and to offer services, experts (washers) visit the mentioned location of the customers.
These options are bug-free that work awesomely for multiple platforms without any stop.
People have the choice to set the language as well as currency (for payment purposes) as per their requirements.
Customize the feature according to the location of the place. For example, if someone wants to include more packages or categorized the packages as per their customers then that can be added. Generally, these features are used for a specific niche.
Creating a website that represents an agency with advanced features is a bit costlier than a mobile solution. Hence, by investing less people get a mobile app for a car wash business.
Due to its features, these options are an awesome way that offers uniqueness to the service which is easy to market in the online market. Moreover, everyone irrespective of country or location is using a smartphone and prefers to book utilities by using smartphones. According to experts, the number of smartphone users is going to increase in the future.
Looking for a Car wash Mobile App Development Company!
Generally, when car cleaning owners look to choose the best mobile app development company then they want a complete solution re-branding solution that represents their services, name, and logos, etc. Our experienced professionals develop car detailing applications that work amazing across all platforms. Testing these solutions thoroughly to remove all bugs, and customizing the features as per the requirements of the clients are some of our goals. If you want to develop the mobile option at the most effective cost- you are switched to the right place. Just contact us and share your details with us.