Give Customized Services using On-demand Electrician App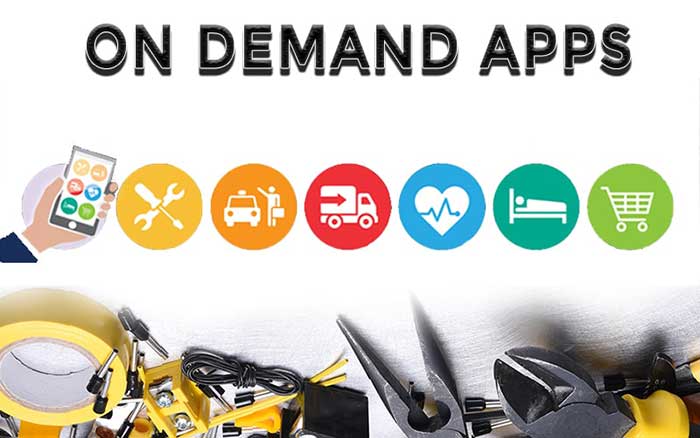 Do you think your old electrician shop is fetching you enough clients? Circuiting your way to clients has become difficult as an electrician but we hear your pain and come up with ideas on custom solutions for your electric business or a repair shop. We are here with full coverage on why hiring an Electrician Mobile Apps Development Company has become almost mandatory and makes complete sense too. This is an interesting blog because it speaks about a topic that is new but useful.
Uber for Electrician App- Ticket to Boost your Business
In the world of the on-demand economy, people just want everything with the click of a button, why not provide them electrician repair services in an instant with On Demand Electrician Mobile App Development services? This is an interesting blog because it speaks about a topic that is new but useful- All about getting customized solutions with electrician app development from an expert company and how it helps!
…the situation and frustration when a pipe under the sink starts leaking or a tap completely breaks out. Well, we all hate indoor swimming pools, don't we? On-demand Electrician, whenever…wherever they want!
It is the motto of most of the on-demand apps out there in the market. And there is yet another in the league- we call it Electrician on-demand app and we are all eyes and ears about it. It was actually a vague idea which has been made possible with some awesome entrepreneurs and businessmen like you.
Why Uber for Handyman is an amazingly useful & successful idea?
The best is yet to come?
Gone are the days when there only used to be shopping days on the internet. Today, it's all about getting food, getting a taxi and now, getting an electrician on demand!
Customized & Unique Solutions:
An electrician is able to give services to the users exactly as needed, only when he knows what the user is ordering through an Uber-like app for Handyman. Therefore, he gets a platform to understand what the user requirements are and how he needs to solve those problems by giving repair and replacement services to them by reaching at estimated times. Giving solutions in a different way will surely make a way to seep into the hearts of the users.
Connect to Users Instantly:
How does an electrician on-demand app help the app users connect to the service providers? Instantly. We can say that. With instant appointment and booking or scheduling, the user makes the order to get the electrician on-board and reach them as fast as he can. In this way, an app is a perfect way to connect to the users without having to wait for the repairman for days. Something that we all need these days.
Routing the Map to Reach-on-time:
The third amazing feature that makes uber type app for handyman a must-have app is the accessibility of the location through GPS navigation to reach the home of the user. The user also gets the ETA and he can track the arrival on the navigation screen of the app. This helps minimize time as well as frustration is also decreased on both sides, ruling out the need to call each other.
Ease-of-Payment:
Just like other apps, this is also one of the most wanted features. Every app user wants to get multiple payment options. Using card/ cash- Just everything! After the electrician has delivered the services to the client, they are able to pay for it and rate his services. This easy and hassle-free payment options in the app turns the customers come time and again to book the services. Reliability matters.
Offer other Services:
An amazing benefit that the handyman app owners get here is that they can put the number of services for the app users to choose and book. Why limit yourself to electric repair services when you have a platform that can help you earn even more money with the mobile app development services from a dedicated company.
Bird's Eye View Admin Panel:
Getting an app built without an admin panel is like a ship without a radar. An expert mobile app development company knows how to give full ownership of the app to the admin. An admin panel provided along with the user app panel and electrician app panel helps to track all the services in one go.
Demand for Uber for Electrician is Bound to Scale Up.
So, yesterday, John broke his AC while fitting it himself. Then, he had to spend bucks on taking it to the store and get it repaired and paid even more bucks to get it fitted again the right way. You must also have tried to repair an electronic gadget or device yourself, but you accidentally broke it up while doing the self-service and then you hated yourself for that.
To get you out of these awkward situations, and not to put yourself in risky situations, there are companies that build super-amazing, seamless and tailor-made solutions for Electrician Mobile App Development for clients who are into electronics and repair businesses- Fresh or Old.