Milk Delivery App Development Services for Subscription Business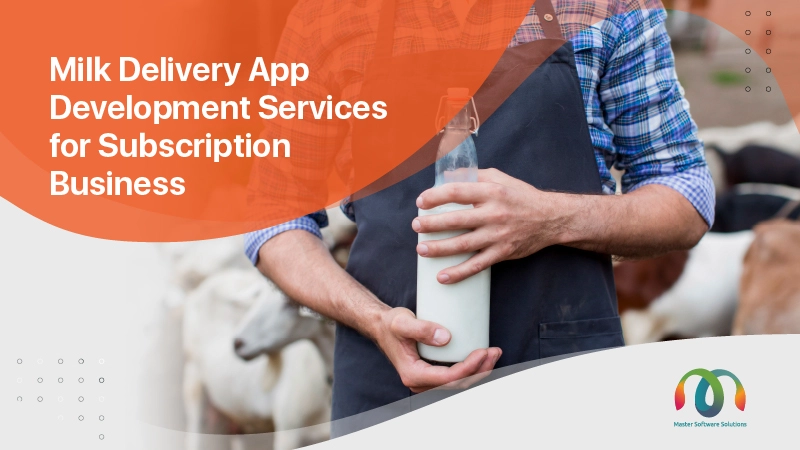 Convenience is paramount to consumer retention. This is particularly evident in the way people shop for daily essentials like milk. The milk delivery sector is experiencing rapid growth, and due to the increasing popularity of milk subscription services, there is a heightened need for milk delivery app development solutions.
Traditional milk delivery methods have given way to innovative solutions such as milk delivery apps, revolutionising the way consumers access fresh dairy products.
In this blog, we will explore the app development services tailored for milk subscription businesses and the benefits, features, and considerations involved.
The rise of applications
The emergence of online platforms, made possible by the combination of doorstep delivery and subscription-based models, has revolutionised how individuals obtain fresh milk and other dairy products. This has not only done away with the necessity of making trips to retail stores but has also presented entrepreneurs with the opportunity to launch their online milk subscription businesses.
Benefits of integrating milk delivery software with a customer app
Convenience
Customers can conveniently place orders for ‌regular delivery of fresh milk as per their preference without needing to worry about any difficulties.
Time-Saving
Customers can avoid wasting time on trips to the grocery store due to the convenience of shopping online.
Customisation
Apps enable individuals to personalise their milk orders, choosing varieties of milk (non-fat, whole, etc.), size, and delivery frequency. Businesses can define these personalised categories
Guaranteed freshness
Apps that specialise in milk delivery work together with local dairy farms to meet the desires of customers, providing the best quality goods.
Automated billing
Customers and businesses alike benefit from an automated billing system that simplifies the payment procedure.
Key features of the app for milk delivery
User-friendly interface
An intuitive design that allows users to navigate the app easily and place orders effortlessly.
Secure payment
Integration with secure payment gateways to ensure safe and seamless transactions.
Subscription management
A dashboard where users can modify their subscription details, pause deliveries, or cancel their subscription.
Delivery scheduling
The ability for users to set delivery dates and times according to their convenience.>
Push notifications
Regular updates regarding upcoming deliveries, special offers, or changes in order status.
Order history
A record of past orders for users to reference and reorder items they like.
Feedback and ratings
A platform for customers to provide feedback and rate their experience, helping businesses improve their services.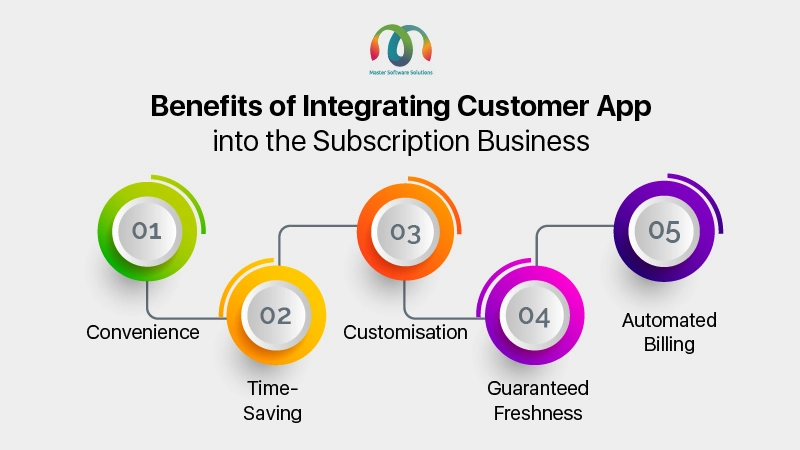 Considerations for milk delivery app development
Platform selection
Consider creating the app for either iOS, Android, or a combination of the two. You can also choose to have a customer website.
Technology stack
Select the ideal technology stack for app creation that guarantees the best performance and flexibility.
Integration
Integrate the app with SMS and payment gateways, CRM, and a secure server.
UI/UX design
Create a visually attractive and easy-to-navigate interface that reflects the company's image.
Security
Put in place strong safety protocols to protect user information and payment details.
Apps for delivering milk have revolutionised how shoppers get their dairy products, and milk subscription companies are taking advantage of this movement. These apps offer an incomparable level of convenience, cleanliness, and personalisation, making them beneficial for both buyers and enterprises. Creating a lucrative milk delivery application requires weighing up the components, technology, and user experience, eventually resulting in a smooth and enjoyable experience with milk subscriptions. Schedule a call with our industry experts to create an app for your milk delivery business and improve the customer experience.