Inclining Growth of On-Demand Delivery Business During COVID
The coronavirus outbreak has halted the whole world. From impacting almost all businesses to diminishing the economy, the pandemic has changed a lot of things. In this situation, there are few businesses that are taking a better breath because of certain online models for on-demand businesses amid COVID-19. The online on-demand businesses have transformed customers' compliance and are revolutionized the ways people buy goods, products, or choose services. 
Where major sectors are on the stack of losing business because of the coronavirus spreading and decisions such as lockdown, on-demand businesses have become a unique solution for the online users to get the things conveniently, with simple solutions quickly. The on-demand app development solutions are helping service providers in transporting and dispatching the ordered things to the customers' doorstep. 
If you want to know what the on-demand solutions are and which businesses can come into on-demand, and how these solutions have made a firm place in the market amid coronavirus. Read the following points, we are going to discuss every important point in this blog.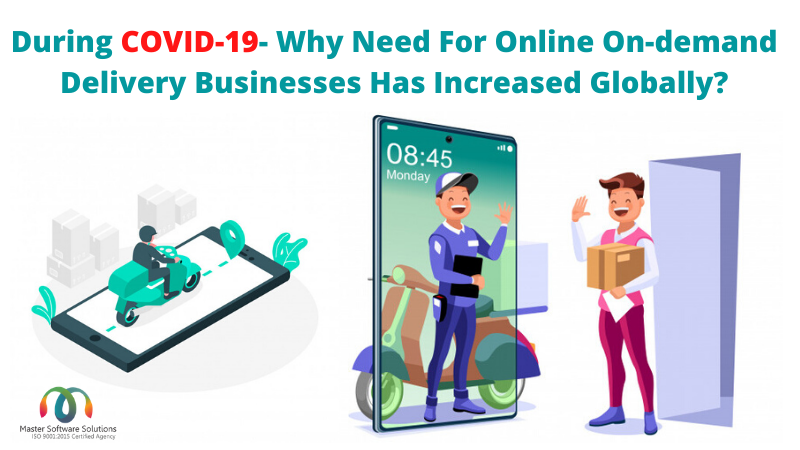 On-Demand Businesses-
Uber and Airbnb are some of the well-known names in the on-demand world. But there are numerous businesses that are using on-demand applications integrated with the advanced technology. Several businesses are using them to reduce the difference between customers and their services. Now, many businesses are adopting on-demand vogue by developing online mobile applications to promote services that were just imagined by their customers at their customers' place. All becomes possible in the digital era. Some of the businesses using on-demand solutions are- 
On-demand Fitness Services
On-demand Solutions for Healthcare Sector
On-demand Taxi Booking Services

On-demand apps for Grocery Delivery

On-demand Beauty & Salon and Spa Services

On-demand Home Delivery Services

On-demand Food Ordering and Delivery Industry

On-demand Repair and Maintenance Services

And Many More
On-demand App Development Solutions Are Doing Excellent Job Amid COVID-19
At many places lockdown has become imposed for a long time to stop the spreading of coronavirus. In such countries online on-demand delivery app solutions are helping administrations to meet the daily needs and requirements of their citizens. These online ordering and delivery solutions are helping them to fulfill the demands of their citizens.
On-demand applications are not only supporting the governments to serve as an indispensable delivery service for all daily-need goods by tracing the needy people but also helping them to provide a good quality of products at customers' doorstep. They are seen as major support that is amplifying the economies' soundness. 

During these tough timings, these online solutions are boosting the productivity of various businesses and facilitating the customers to order online with few taps which is a hassle-free and secure method. The on-demand app developments are majorly used by the food and grocery businesses that are fast, cost-effective, and useful for the consumers. These online delivery options are a great way to avoid crowded places that help in reducing the spreading of contagious disease.

Apart from the slogan of Stay Home, Stay Safe; contactless deliveries or no-contact deliveries for grocery is another great approach that prevents the outbreak of disease. 

That is the reason most of the countries are using daily delivery and management software services amid lockdown and such disastrous situations. Popular brands dealing with e-commerce have already added an option of contactless deliveries in their online ordering and delivery applications. 
Wrapping Up
–
If you are a startup or small-scale business and looking forward to leveraging the on-demand economy then connecting with an online on-demand app development solution might be the best step for your future and for your business too.