Benefits of Online Milk Delivery App Development Solutions
After the online delivery of food and groceries, the dairy sector is taking advantage of mobile apps for milk delivery. The online milk delivery apps are in great demand because they are useful not just for online users, but also offer immense benefits to the milk distributors and dairy farmers. 
The technology is gulping everything and people are loving the online solutions integrated with advanced innovations and their concepts. Here we'll discuss the milk delivery app solutions. This blog is a must for the people who are into the milk business or are planning to step-in this dairy sector.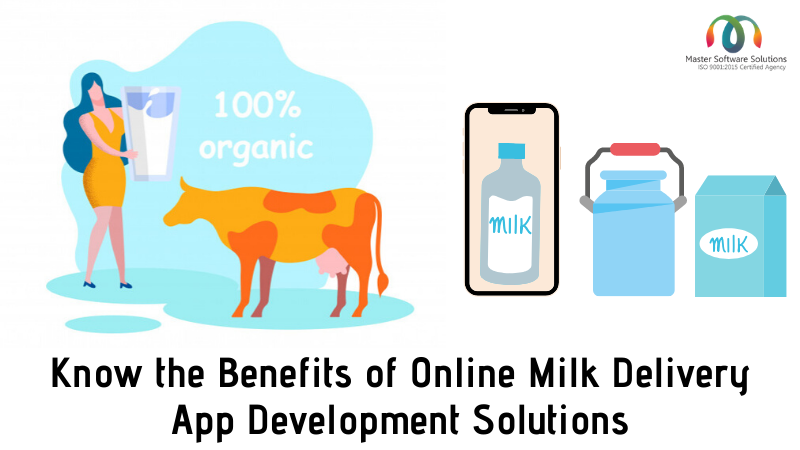 Benefits of Developing a Mobile App for Milk Delivery
Though there are countless benefits of building milk delivery development solutions. A long list helps to deliver door to door fresh milk and enable the dairy farmers or milk distributors to automate their workings. 
Milk Delivery Apps Eliminated the Hassle of Cash Payments-
Integrated with in-built payment options, the milk distribution app enables everyone to pay online. The transactions have been made online that allow online customers to pay easily to service providers' accounts with the help of online multiple payment options such as- Visa cards, MasterCards,, and mobile payment gateways, etc.
Online Milk Delivery Smooths with the Arrival of Development Solutions-
In usual routines, people often visit various supermarkets to purchase milk. In case of emergency situations that may include poor weather conditions, medical emergencies, etc, it becomes too difficult to buy it, as milk is the indispensable commodity in the kitchen. 
Therefore, the vogue includes online milk delivery solutions that are facilitating the businesses to supply fresh milk to the client's doorstep. 
The online users are loving the concept of online delivery of milk. One can get online milk services by sharing basic information.
Online Milk App Allows the Consumers to Choose Delivery Timings-
Just visualize how easy it is if your customers are getting options to select timings for the milk delivery. 
Mobile apps for milk delivery are offering this great benefit of choosing the quantity of milk and delivery timings.  
It is an awesome option for working people or those who don't need it every day. 
Dairy Milk App Services Helps In Branding your Services-
This is the best benefit of online apps that they have the ability to make a just business into a brand. You know! People trust brands more than non-branded services because of their purity, reliability, etc. Imagine, with the online milk ordering apps you may popularize your milk delivery services and become a milk distributor brand.
Dairy Milk Software Manage the Whole Working Easily-
Making a proper count of the total number of customers, active one, delivery man, why customers are not ordering the milk services, maintaining KPIs, etc are hectic processes that consume a lot of time. 
But the features of milk delivery app development solutions, you can record everything within seconds on the screen of your smartphone. 
Apart from this there are individual app panels for each user that enable the online users to get the services easily. 
Wrapping Up
–
The milk distribution or dairy industry is a huge sphere for established people as well as for startups. It is the right time to build a milk delivery app development solution that helps in delivering milk as well as manage the whole working of dairy farming. Technology goes hand in hand that is benefiting the whole community. Are you looking for the best online milk delivery software? If yes, share your business details and get the best management system for your dairy business.