How to Develop an On-Demand Food Delivery App?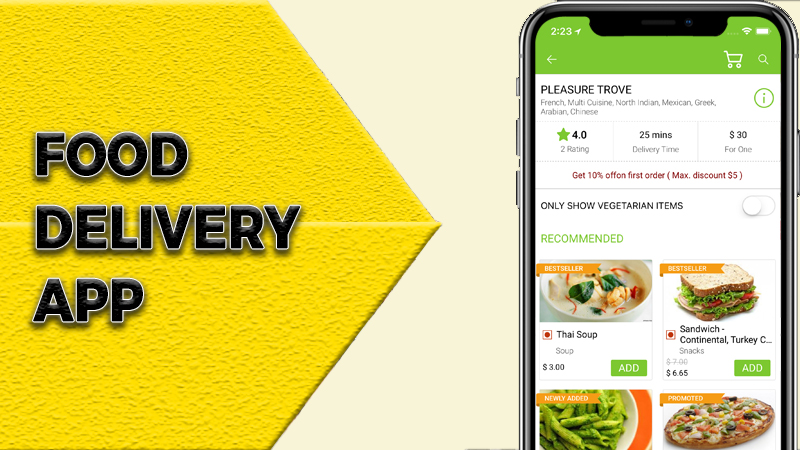 Developing a food delivery app is not just making software to take the required orders from the customers. You really need to have the knowledge of the market, take care of the needs of customers and much more. Below, we have discussed each and every aspect related to the on-demand food delivery app.
Things to Discuss Before the Development of a Food Delivery App
Developing a food delivery app is an amazing idea that one can have. But to get the desired results, there are so many things that need to be discussed and planned with the experts accordingly. From planning to the successful launch of the food providing apps, you need to be very particular.
Planning– Planning is the most important part considered before the development of food delivery app software. Because you need to make a plan to explain each and every step in detail. It may include the detailed version of information collected from the client end, market trends, competitive end, and technology that can be used, etc.
Design– It includes each and everything related to the display of the food delivery app. How an application software will look alike? It includes designing part of the application software. In addition, interface, layouts, UX, the structure of the app. Furthermore, it includes the number of pages, tabs, sub-tabs, etc and how much time it will require to achieve the full-fleshed design of the app.
Development– It is important to develop a food delivery app that secures enough and easy to use for the customer's point of view. Development is considered as one of the most time-consuming parts while developing it. As developers need to give functionality to different options by coding them in a particular language.
Pricing & Budget– It is considered as one of the most complex things. As it is the discussion between the client and food ordering mobile app development company. Clients may get different packages from different Restaurant App Builders. Therefore, instead of complaining afterward it's better to discuss it before hands.
Services & Areas to be Covered– It is obvious that the food delivery app is going to deliver food only but it is important to discuss that what type of food and beverages your app is going to deliver. In addition, what will be the areas your application software is going to cover? These are the things that need to be discussed so that developers and other team members of digital marketing could plan accordingly.
Launch– Launching own food delivery app is a great and massive achievement. So, the date and place need to be discussed beforehand. Moreover, you need to do all efforts for the marketing of the app before it's launch.
Maintenance– If a food delivery software is ready and launched doesn't mean that it never needs developers or developing techniques. For adding or subtracting the wanted or unwanted features, food delivery apps required various development techniques.
Benefits of Developing an On-Demand Food Delivery App
If there are other food delivery apps, then what is the need for developing another food delivery app? Why do I waste my resources such as- money and time over it?
The answers are quite simple-
Food is a booming business that would never be stopped in the future. Is it possible that we humans stop eating the food in the future? No, never. It would never happen at all.
Do you know! According to a report the online food delivery sector is intended to grow to $55 billion by 2020.
Everybody needs food, in fact, they need a variety of food items. So, they need food at every instance of time and of course every instance of life on a regular basis. This business would never gonna be old and will always be in heavy demand. And it's never too late to start a new business like owning a food delivery app software.
In addition, you can easily connect with a wide range of customers without paying any kind of physical visit. There are numerous people who use online food ordering solutions to order food and beverages on a regular basis.
If you are going to offer a stable supply of food then definitely you are going to add a number of customers constantly. This helps you in the stabilization of your business and future.
Are You Facing Problem in Food Ordering Mobile App Development?
If your answer is yes then you can Contact US. Our professionals have a wide range of unique solutions for your ideas. Just discussed them with our expert team and give wings to your ideas.