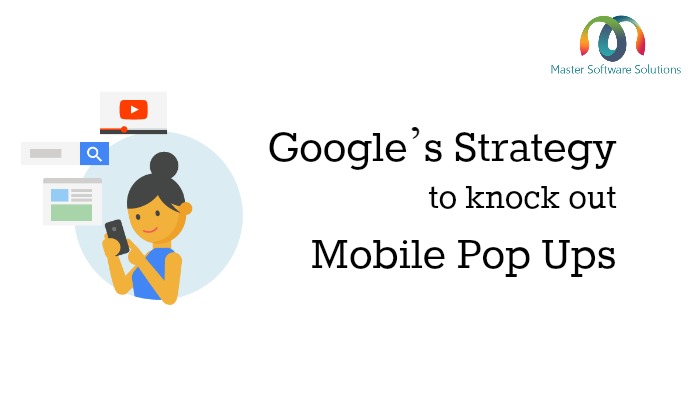 Google is notorious for its ever changing algorithms. Continuing the legacy, Google has recently announced their plan to knock out the mobile pop-up ads. The reason for doing away with the ads is to improve the user experience.
It is obvious that these pop ups are annoying and distracting for the users. However, these pop ups are also a major source of generating revenue for the businesses and marketers. In case you are a marketer, then keep on reading this post as we have put together all information you need to know about this update.
Google found that mobile pop up ads (also called interstitials), rather than being informative, are more annoying. Therefore, being least user friendly, websites and web pages having mobile pop ups will get affected with the soon to come algorithm.
The algorithm is expected to get implemented by January, 2017. Let's see the reasons these interstitials are getting knocked off.
Pop ups distract the users.

They make content inaccessible.

They provide a poor user experience.

Different size pop ups on different devices are even more troublesome.
Google also clarified what kind of interstitials are most likely to get affected. Let's have a look at them.
A pop up that makes main content inaccessible whether during browsing a page or visiting it immediately after navigating other page.

A pop up that needs to be closed in order to access the main web content.

A pop up that is disguised as the content or placed above the fold in a web page.
However, it is yet to be determined which kind of interstitials are going to get removed. For example, websites selling liquor need pop up to verify a user's age before allowing them to browse the website.
You don't need to worry in case your website has interstitials, as we have prepared a list of to-do things that can help you avoid the major consequences.
Get rid of pop ups, unless they are an absolute necessity for example age verification.

If you were using pop ups for generating revenue, search for alternate options.

Opt for alternate ways which generate revenue without disrupting user experience.

Create valuable content to generate revenue through a series of leads and sales.
Google would be soon targeting the websites and web pages which host interstitials or overlays which blind out the actual website content. It doesn't matter if they pop up mid website or before loading of page. Moreover, Google will not spare even those websites which give an illusion of pop-up.
Website owners and blog post owners might not be really happy with this, but they can actually find other ways of generating revenues.