8 Brilliant Features that help Food Delivery App Retain Customers: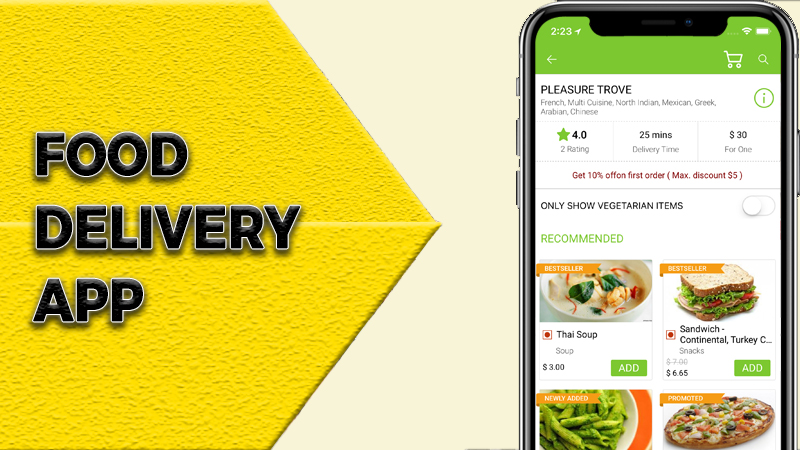 The features that we are going to discuss in this blog are completely meant to retain customers on an online food delivery app without which an app is a sort of failure where investment can go waste in no time.
This is definitely an inspirational blog, where we have curated the list of some of the extraordinary features which brought a revolution in food on demand apps as well as paved the way for the global entrepreneurs to create amazing Uber-like apps. Let's get started with the exquisite features that are must-haves for any online food ordering development of the app.
GPS Tracking:
Having GPS tracking feature is one of the most important features in a food delivery app. When the companies and app development agencies offer on-demand food delivery app development in Canada and elsewhere, they should always push to include this feature which eases out the trouble of the riders as well as the app users who have ordered their meals from near or far away restaurants.
Intuitive User-Interface:
What else than a smart and intelligent user-interface is loved by the users of the app? The very first thing that is visible to the app users when they first download the app and swipe over it is the intuitiveness of the app. If it's seamless, flawless and perfect, then the users will keep it, otherwise the features don't matter in a food delivery application until the users find a way to get right into them, in a very easy manner. So, keep it right with the app user experience.
Attractive Deals & Discounts:
While it might be a losses vs. profits right at the start of the business, but things don't actually work without Deals and Discounts being flashed on the homepage of the app. What every company offering on-demand food delivery app development services should bear in mind is that the deals and coupons should show up everytime when the app is launched by the user. Remember, every user session is an opportunity to convert leads into customers and retain them for future.
Referral Rewards:
In an on-demand food delivery app, referrals and invites lead to crazy discount coupons for future. There are rewards for the friends or relatives who sign up using your code and then, the user also gets discount coupon. Why is this feature amazing for retention? Referring friends brings new prospects as well as retain the old ones for future orders. A great trick to cherish!
Scheduling Order:
So, you have heard about on-demand food delivery apps being created by the companies where instant ordering is the way to get meals as fast as possible from your chosen restaurant as in Uber-like app. How about letting the app users choose their preferred time and date far ahead of when they actually want their food to get delivered! Amazing, isn't it?
Multiple Payment Options:
Another feature in a great food delivery app online is the option to let the app users pay through multiple options. It can be using an eWallet, or a credit card or a debit card or pay on delivery. More flexibility in the payment options provided by the app, means there are more customers who may have different preferred modes of payment.
Category-wise Curation:
Have you ever gave it a thought that the real thing that makes the best food delivery apps, the best ever reliable and most interesting apps to use for food delivery services in Canada or the USA. A smart and intelligent list of the restaurants put into categories makes the work of the users even faster and simpler. This simple organisation lets the users order without hurdles and orders are made in no time!
Customized Drop-off Points:
Oh…how nice would it be if an app supports customized drop-off points. Why every food delivery app development company should include this feature is quite clear. First thing, these drop-off points let the riders reach the customer easily. Secondly, they can save a lot of time while tracking the drop-off location of the order.
Endnotes:
Make the magical moments happen through the best food delivery! If you are a mobile app developer or an entrepreneur hiring an on-demand food delivery app development company in Canada and elsewhere, count on the above amazing features for success.