Uber for Flowers App Development: 11 Powerful Features for Uber for Flowers Delivery App!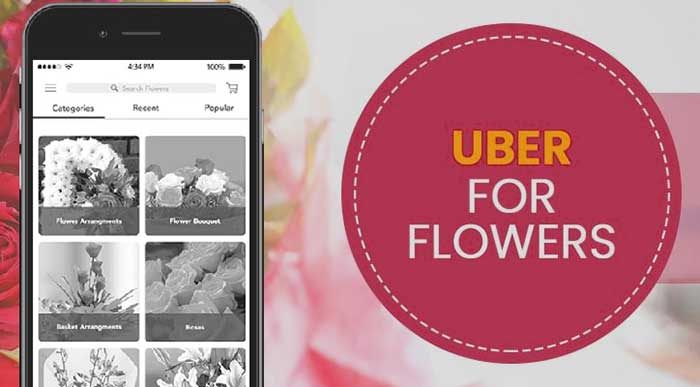 Wondering how flowers can make your business grow?
Don't think anymore because we are here to tell you how investing a few bucks into flower delivery app development in Canada or London will elevate your flower business into a money-making machine.
When life gives you flowers, make bunches out of it. However, a florist like you is an expert who knows how a certain category of flowers suit which type of occasion. Not to mention the incredible amount of time you put into thinking about the designs of the best bunch of flowers that entice the customers in first glance. However, things are taking a new shape.
Customers love to order apps.
To get flowers delivered straight away to the doors of their loved ones- on Birthdays & Weddings, Graduation days & funerals, what not! An uber for flower app is the best option you have in this digital age to take your business to an old shabby shop to a fancy smartphone app. Thanks to flower delivery + technology-
Making Flowers Accessible 24*7 with Florist App Development Services:
When life gives you lemons, you make lemonade out of it. What if life gives you technology, and you still don't get an app for your business. It isn't sensible, dear florists! Make flowers from your shop accessible to the loved ones of your clients and make their life as fragrant as you can-
A Lavender land, a blush of roses, white tulip bunches… Do you have them all?
An experienced company providing on-demand flower delivery app development services in Canada, in case you are in Canada, America or anywhere else, is your best friend in need. These features in a flower delivery app are the most loved ones, just like your app. Delivering a 'vase of freshness' ?becomes, even more, easier and hassle-free with a flower delivery solution. Learn how…
Easily get Orders through App:
We know how tiring it would be for any flower business owner or the florists to look for the customers all day. This is completely ruled out when you hire an online fresh flower delivery app development company to make things so much easier than you will be getting the huge number of orders just through an app. Get online as well as offline orders and make money easily.
Accept User Requests:
When the app user books flower delivery through an app, the app owner- that is you, get the user request to accept or reject. In case you don't have any rider available to deliver flowers, you have the option to cancel the order rather than to let the customer wait for the order to be delivered. This requires prompt action otherwise no one will ever make an order unless you tell them honestly and a Florist app development services in Canada helps you with that.
Send a Rider with Flowers:
After you have successfully confirmed the order of the user, the admin needs to assign a rider who will deliver the flowers in an hour or less. The order with flowers is dispatched. Using the app, a push notification is sent to the user who has paid for the flowers. So that he knows that the order is on the way. It is really very important.
Track everything with GPS:
GPS navigation is one of the most important functionalities that are really very important in the uber-like app for florists in Canada or anywhere around the world. GPS navigation helps in tracking the way through the customer address and the customer is also able to track the route until the flowers reach the stipulated address.
Delivered in Minutes:
Using an app, both the florist as well as the users of the app benefit. How?
There are no hassles of ordering the flowers through a phone call or text. No waiting time to know whether the flowers will be actually delivered or not. Moreover, the flowers can be delivered in less than an hour. Thus, there is a high rate of satisfaction with the orders delivered when it comes to delivering flowers using an app.
…Just decided to get a massive influx of orders? ?
We have some surprise features (that we always stress upon!) of the online fresh flower delivery apps to tell you.
Offer Subscription-based Services:
Occasion-based Flower Bouquets:
100% Organic Flowers Delivery:
Deals of the Day:
Customized Flower Arrangements:
Add on Gifts & Cakes:
Concluding Notes:
If you are one of those florists who want to get a high flow of orders without having to wait for hours before a customer hits your shop- You should definitely get an app. Waiting for orders is no option for florists as well as for customers. This is exactly what the best bouquets delivery app development company in Canada offers and you wouldn't like to give it a miss.