Develop Your Own Health & Fitness App Software in Canada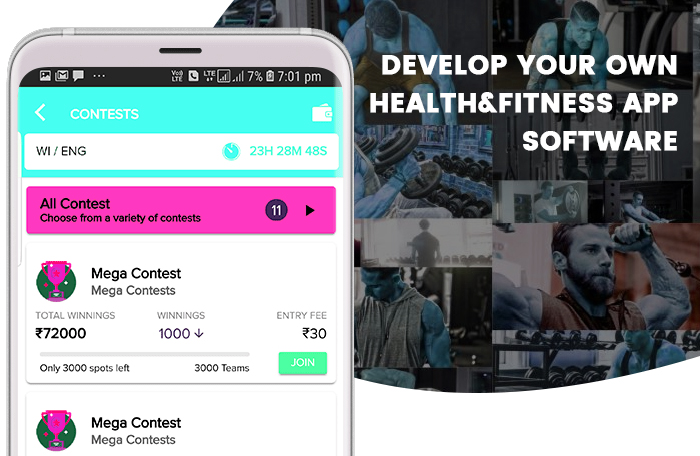 People are taking advantage of technology by using healthcare fitness apps. These fitness app development solutions offer various healthcare and fitness tips, exercises, etc.
According to a study, more than 30 percent of people in Canada are using healthcare and fitness apps and the number is increasing day by day. Today, there is an increase in the development of healthcare app software solutions due to the usage and demand in the market all over the world. People believe they feel happy and positive after taking regular exercise and proper diet.
'Health is Wealth'
You must have heard or read this old proverb. Believe me, it is so true. If not then just read the story of Steve Jobs- Chairman, chief executive officer (CEO), and co-founder of Apple. The reason behind his death was Cancer but he had everything and did everything to achieve success and he died as one of the most successful men in this world. But just because of his ailing health he said goodbye at an early stage of his life. Even the emphasis everybody to live a healthy life in the book penned by him.
Due to the addition of various kinds of ailments, and costly treatments, people living in the areas of Ontario and British Columbia are sticking more to these fitness app solutions and are concerned about their health.
Do You Want to Develop Your Own Healthcare & Fitness Development Apps?
Numerous different types of healthcare & fitness development apps are available in the market of Canada that offers different services. In addition, these healthcare and fitness apps are in trend because one can have the required exercise at home or anywhere.
According to the statistics, the number of users using fitness and healthcare apps will increase drastically by 2020. Then, obviously, the revenue generated by these apps will grow automatically. This the reason, masters of the mobile app development are now focusing on the development of fitness app solutions.
We have mentioned some of the most important types of features of health and fitness app. Let us discuss them in brief.
Ease of Signing Up- Now, the customers want the quick result of everything. Users need to sign-up to any app while using it for the first time. This is common in all app solutions. If you are going to develop a fitness app solution, it is recommended to have a short and simple signing up process by just registering their name, Gmail IDs, etc. To verify the users, an authentication number is sent on the provided IDs or phone numbers
Tracking Record- If you are going to develop a fitness app then your app solution must have the tracking record feature. It will enable users to use the fitness app solution in Ontario and British Columbia to track their walking and running speed and the calories burned during the process.
Additional information- People living in areas such as Ontario and British Columbia of Canada are more inclined toward junk foods. But now more people are using fitness app solutions That is why this additional information feature will offer more information to them. It is the feature that enables users to get to know the calories they are taking after eating any kind of food. Like- you can give additional information which would definitely be very beneficial for every user, regarding

A Burger include- 250 calories
A bowl of Chicken Fingers includes more than 300 calories.
Pizza from Pizza Nova include 200 to 400 calories.
etc.

This enables your users to choose the right food items. They may stop or limit the amount of junk food after seeing the number of calories they are planning to intake.

Geographical Location Feature- Another very important feature is the geographical location. This feature enables users to locate their location correctly. Geographical location feature helps your users to show the route while walking, running on the roadside of Ontario or British Columbia.
Notification- Notifications are another amazing feature which encourages your customers to achieve their goals. For example- If a user is regularly walking and is going complete 1000 km walk, then this notification can help him to encourage to get the goal before the assigned time. In addition, you can push notification if they missed their regular walk or run.
Videos- Videos are a great option to learn things effectively. To learn Yoga or related exercises your users may need a demo which allows them to understand how to do a particular exercise.
Easy to understand– Easy to understand feature is very important. Actually, it is not an option in a fitness app solution it is a necessity. Never ever use any hard to understand feature in the fitness app software. The app development should be in such a way that the user can easily play the videos and read the fitness-related information.
What Types of Healthcare and Fitness Apps are developing in the Market of Canada?
Meditation
Tracking Activities
Personal Trainer
Diet and Nutrition
Yoga Apps
Due to the continuously increasing demand for various types of healthcare and fitness apps, a number of health and fitness app development companies are developing a fitness app solution in Ontario and British Columbia. Are you living in cities like Ontario or British Columbia? Do you want to develop your own fitness app solution? Are you looking for the Fitness Mobile App Development Company in Canada? If yes, then contact us. We have a full-fleshed team of experts who are working on various mobile app development solutions in Canada.