AI and Big Data for Creating Personal Shopping Assistant App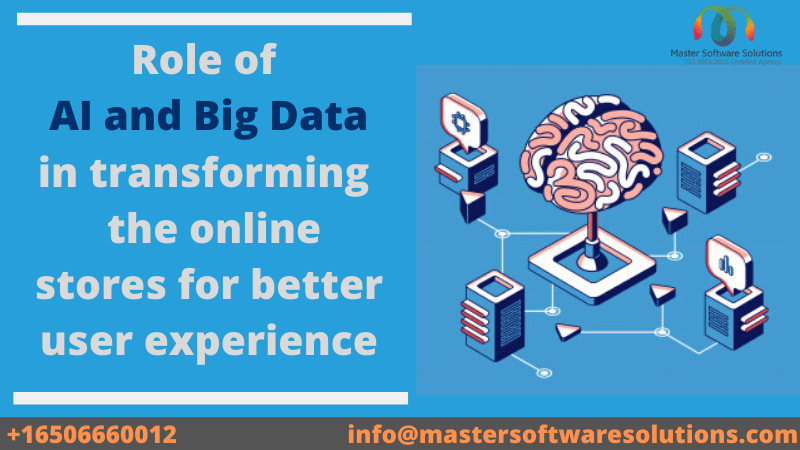 People love shopping, irrespective of their gender. Almost all of us loved it. In this advanced world, people have changed their way of shopping as many of them prefer to have it through online shopping apps. Due to the bombarding of customers and continuous increase in the online options, service providers are looking for innovative solutions. To offer such options, the AI developers are creating personal shopping assistant applications. 
To develop the personal shopping assistant app solutions, Artificial Intelligence and Big Data technologies have taken the front seats in the technology world. 
How these AI and big data are helping the different verticals of the society that is service providers as well as the customers? What are the benefits of using Artificial Intelligence and big data technology for creating online personal e-Commerce assistant apps? 
Before, explaining it let's have a look- 
How Shopping Assistant Applications Integrated with AI and Big Data Work?
In our continuously evolving world, data is everything. It is being used to understand the ways of shopping their customers love to use and to know the nature of the behavior of shoppers. The data of personalized online shopping applications are also used by the service providers to read the mindset of the users by knowing their browsing data. 
For example- what kind of products and services he/she is interested in. and after going through one product what else he/she clicked on. The whole data is collected, stored managed, with the help of big data technology. The collected data then is being analyzed to know the pattern of the search the online users are using. Also, the data is used to review and rate the buying and to know where the service or product lacks. AI technology helps to make the applications user-centric that first shows the things similar as per the previous research and which additional compel the customers to purchase a product- it basically helps in increasing the online sales. All this becomes possible with the help of Artificial Intelligence and corresponding technologies like NLP, machine learning, etc.  
How Do Personal Shopping Assistant Applications Help People?
These personal online shopping applications help in ordering or booking orders on account of customers through chat options, calls or emails, etc. It is commonly known as a chat-bot option- every AI-powered e-commerce online solution is using chatbots to increase their business's boundaries. These assistants or chatbots of online personal shopping apps work to- 
Execute Shoppers Orders

Shows the Services or Products as per Latest Trends or Previous Browsing Data

Process Financial Adjustments After Discounting or Using Various Codes/Offers

Helps Users by Showing the Options of Exchange and Replacement

Auto-reply to the Customer's Payments, Return Products, other Emails, Massages, and other queries, etc. 

Maximize Client Base

Automate the Tasks to the Pre-defined Sources.

Offers The Best Solution to the Queries of the Customers.
What Are the Benefits of Developing Personal Shopping Assistant Applications?
As per the data, with the help of chatbots of personal assistant applications, various businesses have- 
Increased the massages open rates up to 65 percent
One-fourth increase in Click-through rate (CTR) rate
A four times increase in the revenue

The one-fifth decrease in service costs 
Important Features To Know Before Developing the AI and Big Data Equipped E-commerce Assistant Applications
– 
As per the above-mentioned points, it is clear that owning a shopping app is a wonderful option through which you can stand in a great competition. But there are many things that need a bird's eye review to create powerful Artificial Intelligence solutions. Let's discuss some of the things that you must understand the need of having them in online personal help shopping apps. 
Empower Your Virtual Assistants Apps With AI To Get Quick Navigation Results-
If any user is finding any difficulty in searching for a product or service, there is a great chance that you would lose him/her. As he/she will definitely move to some other shopping site. Easy navigation is something that helps the customers to get quick search results and helps in building up trust and enhance the users' experience. As per data, customers prefer to use the online software that takes less time for navigation and shows quick searches. 
Noticeable Assisting Options
–
The online solution that is ready to answer every query of the customer is believed to be the best one. Calculating the exact amount of billing option using offers, codes, discounts, package tracking, order history, etc are some of the noticeable features that make user-centering applications. If the applications are helping the customers then why would they resist spending their precious time? Don't give the chance to the customers to complain about the services. Just covering the loopholes is the secret of success.   
Rate and Review/Feedback-
This is a 'must' feature of an online personal shopping assistant application integrating with advanced technology. Adding testimonials of the customers and showing them to other users too is beneficial to develop an application powered by AI. It is one of the most-reviewed things before downloading an application. It helps in building trust among newcomers.  
Contact Details-
Chatbots are the most important feature of an app, especially for the personal assistant application. But various customer care services, email ids, toll-free numbers or other numbers can easily be shared for the ease of customer's experience.   
Labeled Categories
– 
It is not an important feature but a big requirement too that helps the users. Almost every business has various different services that need to be shown in different ways. Through labeled categories, you can categorize your products or services easily. To make the difference between the packages or services, products you are selling through online solutions, it is essential to label every category or page properly.
Recommending Products Or Services Through Your App-
Recommending the other products similar to the browsed one is a powerful way to increase the stay time of the customers that may lead to enhancing sales and eventually the revenue. 
Looking for an AI Development Company to Create a Personal Shopping Assistant App?
There are several mobile app development companies in the market that are working to develop virtual assistant apps. But finding the relevant one is really a challenging task. Fill your details here, to know the more advanced features integrated with Artificial Intelligence and Big Data and the costing for developing an app especially for your business.