Uber For Doctor- Why They Are So Popular?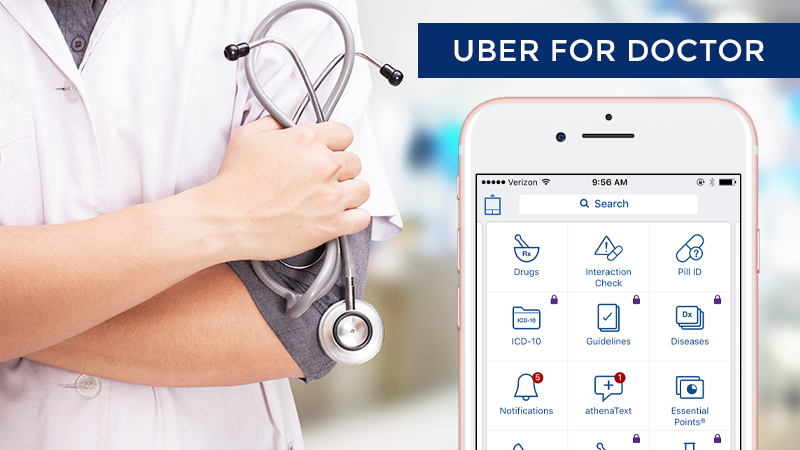 There is no doubt in the medical facilities and related services offered by Canada. But believe me! Almost everybody is fed up with those painful long waiting queues just to visit a doctor's place. It is not just painful for patients but also for the doctors. The reason is that doctors are unable to see the patients as per the appointment time.
Good news for all of them because here's the uber for the doctor- a mobile app that enables patients to consult the doctors at any time if required.
On-demand solutions for doctors is an option that has revolutionized the way Canadians get medical care by bringing doctors directly to their phone. It is an awesome alternative that reminiscent the old-fashioned doctor house calls. It has become a fast-growing trend due to the benefits it offers to every class of people.
What is Uber for Doctor App?
I think it is clear if you have read the above-mentioned information that uber for a doctor is a mobile solution which is helping in shortening the distance between the doctor and patients. The waiting lines, prior booking of appointments and then visiting the doctor's office/clinic were considered as barriers by the service providers and those who required them. In this fast-moving and hard life, we all want to save time.
Who Would Like to Use This Online Software?
Many people who are living in Ontario and British Columbia and other parts of Canada who are looking for such online options due to diverse reasons. They are beneficial for doctors as well as for patients.
If you are working in 8 to 10 hours shift timings then it would not be easy to consult a doctor just for a minor infection or flu. Who would like to visit there or wait for hours? I think nobody Right!
Elderly people who are unable to stand in a long waiting queue for their turn
People who face difficulty in moving.
What does a child mean to a mother? I think everything. A lady having an infant in her lap would love to use such options, not just for herself but for her child too.
How an Uber for Doctor Solution Work?
There are numerous types of apps for medical professionals which represent them in the market. The mobile software is especially suited for medical experts to secure the position and to expand their reach.
If you are a doctor or working in a medical profession then developing an uber-like app is a must. It will not only increase your productivity but also help in succeeding in your start-up businesses. Such solutions act as a mobile extension for their services. A doctor's app can make life easier for patients as well.
Enroll This can be counted as the foremost option. It is similar to registration, or sign-in. To take the services of uber for the doctor app solution, users need to sign in. Be it a patient or a doctor, a prior sign-in is important. By bestowing the basic details, anybody can use it and enjoy the services.
Services A mobile appointment software includes several different services with the details. Being the most booming field, medical has countless services in which doctors are specialized to treat patients in their best way. The services include a complete list with a description. Patients can choose a specific service and also can choose a particular doctor to take the treatment or for consultation.
Are you thinking of owning an online solution then you must enlist the services clearly so that patients can easily choose them. It is an awesome way that recognizes your profession well.
Video Conferencing Uber for a doctor is a solution that has vanished the problem of making appointments and waiting to consult the medical professionals. Anybody can consult the doctors at any time. But there is an option which is secured or reserved especially for video conferencing. In this patients can easily show their severe problems. For example- If you have a skin allergy on any body part due to the bite of any insect or drug allergy then patients can show the severity of the wound, etc.
Chat Options In the case of the non-availability of video conferencing options, chat options provide a convenient way to chat with the medical experts in the form of SMS, etc.
Prescriptions Certain doctors have tie-ups with medical stores. So, it becomes extremely easy for patients to get the required prescribed medicines from the app itself. It is believed to be an extra feature that some app software owner's add in their solution. It is quite right to write here that it is not a compulsory trait but a wonderful option that people love to choose.
Payment Options In a similar way as the patients deposit a certain amount of money in the doctor's office in the form of the consultation fee, you can easily pay the required fee online. As there are so many options that can be used for transactions such as- Credit Cards, Debit Cards, money transferring mobile solutions, etc.
What is the Need Of Uber for Doctors App Development?
According to the survey done by HIMSS Mobile Technology, more than 90 % of professionals use online solutions to engage patients during their clinic visit.
More than 73% of them are using online software. This need is growing like hell.
Everybody wants to rule in their field and at least in their areas. Till 2019, more than three lakh people are taking advantage of certain medical online solutions. Due to the increasing availability of Internet facility and usage of smartphones, there is a possibility of a drastic increase in the graph line of doctor mobile solution users.
Before developing an online mobile solution like- uber for the doctor, analyze whether your business needs an app for android users, iOS, Windows users or for all of them. It is possible to build the same app for a hospital which comprises several medical experts. It all depends on the niches and the area you would like to cover.
To conclude on the bright side of the medical field, we would emphasize that developing an on-demand doctor software is quite necessary. We talked about why you need it, and how it works? And, how would it let you benefit the most!