Uber For Carpenter- What are the Important Features To Add in the App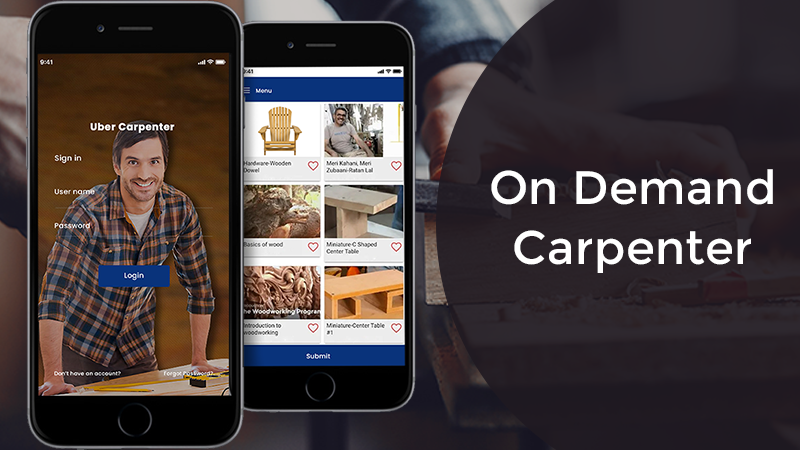 In developed countries, people prefer to construct wooden houses. From the decor to the railing of the stairs, and floor everything is made up of wood. Therefore, any change or renovation requisite a carpenter.
Those were the times when people call the service provider agencies to register their requirements for a carpenter even while changing a single window of their house. Then agencies search for qualified workers to fulfill the requirement of the customers. But with the addition of uber for carpenters mobile options, these trends become so advanced or you can say hi-tech that everyone can use them.
If you are offering any services related to a carpenter or own an agency, you must read this blog. We are going to discuss things related to uber for worker app development that would help you to expand your overall income.
Now let's start from the beginning. If we ask how a woodworker can get work? Seriously, if we talk about carpenters in Canada and their business then they have no to minimal options that they can use to reach the online customers. On the name of online presence, they hardly have a facebook page or Instagram account. This is all which is used by these professionals to get the work.
What Do You Mean by Uber for Carpenter?
These are the on-demand solutions that enable users to get the instant and affordable availability of woodworkers. Generally, users require quick and best solutions. To fulfill the requirements of the clients, uber-like apps help the business owners to provide the best option to their clients.
Must to Add Things in an On-demand Mobile Solution
Do you want to develop an uber for the carpenter app? If yes, then we recommend you to discuss these things with your development team. As an effective on-demand solution can make a great impact on the tendency of the clients who desire to get the services. It is imperative to add all the important features in an online solution. Therefore, it's better to get an overview of all these things.
Nearest Available Options- It has been noticed quite a number of times that people generally prefer to choose the nearby option instead of choosing services from the service provider who is mainly offering services in another city. So, it is extremely important to set a specific targeted area to focus on that particular audience.
Online Payment Options- Another most recommendable benefit- online payment options. Multiple payment options are used by various business owners all over the globe. Similarly, online apps use the options payment option as a weapon that saves them in various instances. Let's discuss it in detail. You must have seen various instances where a user under-paid a carpenter. And these licensed and trained people get less money. Ultimately, the service providers agencies also get the taste of this loss. Adding multiple online payment options (such as- debit cards, credit cards, online software used for transaction) is a win-win state for everyone.
Security- Security is the paramount important feature that secures not only the customer but also the owners. An app secures privacy by adding multi-layer encryption which keeps the unwanted stuff away from these advanced online options.
Easy to Use– The flexibility of uber for carpenter apps helps the business owners to growth insanely. But how? Customers always look for a complete solution that requires every type of service for their house under one roof. If you are providing that ease of operating the service then definitely, clients would love to avail services from your window. Easiness in booking service for assistance, scheduling, payment, etc.
Notification- This is something that acts as a broadcasting channel. As it relays all the new happening to their subscribers. Similarly, the notification feature helps the owners by transmitting the message of any new addition. For example- if you have added a special package under the renovation category and you want that your customers know it then notifications play an important role.
Chat Feature– The customers who are going to use these mobile options often belong to diverse regions. So, it is compulsory to add a live chat option that will enable your clients to clarify their all problems. This enables them to chat directly with the professionals.
What is the Need for Uber for Carpenter?
Due to the continuous increase in the development of various online mobile solutions. According to data available on the Internet, almost 70 % of Canadians are using smartphones for various online solutions. By 2020, more than 81 % of people living in Canada would use smartphones to get various services. Do you know what it means? This means out of a hundred more than 81 people would use online mobile software to search the expert and professional people. The online software is so well built by the experts that mend, repair and accomplish all the demands of the customers. Either it is the handle of your wardrobe or to fix the screws of your folding table.
It is a great way to search for professionals. On the other hand manual searching of such professionals itself is a juggling task to achieve. To boost the profits of your company, there is a great need for uber for woodworker app development.
Develop An On-demand Solution for Your Agency
Online carpenter solution has solved the problem of customers as now they are getting services to repair their wooden stuff. If you own an agency that offers professionals such as wooden-makers in Ontario or British Columbia and are looking for the best application for your agency, then choose Master Software Solution. They have the top class builders who can help you to develop a uber for carpenter app software. You can also discuss the development of an app to be done for a single platform or for multiple platforms with the builders. To get a cost-effective result just call us.