Online Grocery Delivery Booms During Corona Outbreak
Before the outbreak of coronavirus, online shopping was generally for apparel and other fashion items. But the coronavirus has shown the importance of the online delivery app solutions. Because of the lockdown imposed by different governments, everyone was worried to get the basic things as nobody is allowed to go out of their houses. 
In the age of coronavirus, the online mobile apps for grocery delivery are acting like the only way through which the owners can connect to their customers. The distance has been removed between the service providers as well as the customers.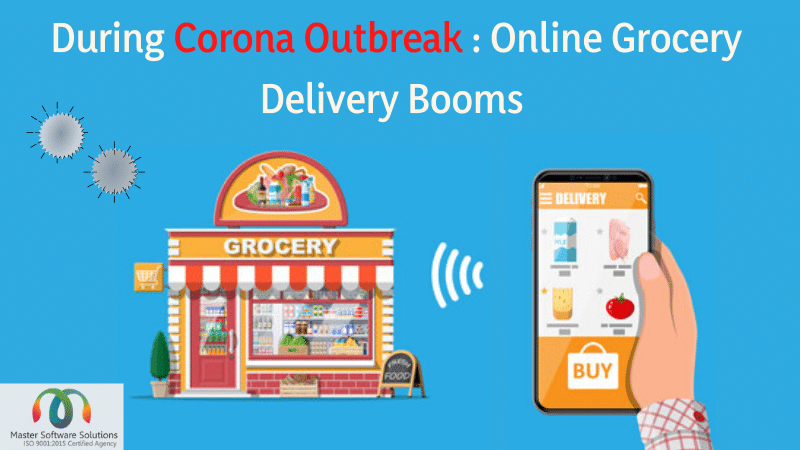 On-demand Grocery Delivery App Development Solutions- 
After seeing the advantages of these online ordering services, the grocery store owners are now more inclined towards these mobile apps used to deliver grocery items. To follow the instructions as well as to do the business is a challenging thing for grocery store owners. But online delivery solutions are the best alternative. In this coronavirus outbreak, the delivery apps are dispatching the groceries to the customer's places. 
Customer App-

Through this panel, the authorized customers can easily choose and add the products into their online cart and then proceed for the order. The online multiple payment options enable them to be more easy and beneficial for the users. 

Admin App-

Through this platform, the owners can represent their complete inventory online, in which addition or subtraction of products, editing price, etc can easily be done. The scheduling of the delivery as per the requirement of the customers and availability of the delivery staff can be done from a screen. 

Delivery Panel-

As per the instructions of the customers, the dispatching experts deliver the ordered grocery products to the customer's doorsteps. 
Choose the Best Features for your Online Grocery Delivery App
–
It's the features that make a big difference between the different online delivery solutions. Therefore, one can easily choose the features as per their requirements available resources. Features make the mobile apps for grocery delivery more useful, hassle-free, easy to operate and offers more transparency in the working. Amid coronavirus pandemic, it becomes extremely important to regulate your business through online grocery ordering app solutions. In this era of no contact deliveries, only the Internet or online solution has the freedom to act and work freely and to reach anybody's smartphone. Otherwise, governments of different countries have imposed heavy fines, etc to stop the spreading of COVID-19 and to reduce the movement of people outside.
Do you want the Top Online Grocery Delivery App for your Supermarket Business?
If yes, contact our experts to get the robust grocery ordering app. All you need to do is to send your requirements for your business. Our professional team will suggest and develop the most flexible software to regulate your online delivery services. Request a demo.