Develop your Own Salon App With Our Online Beauty Salon App Builders with Some Exciting Attributes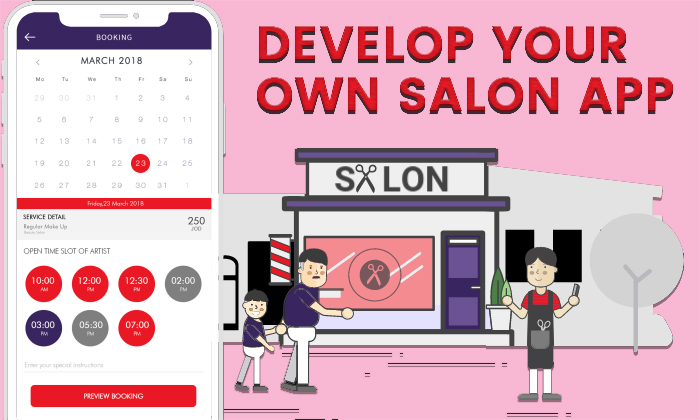 First, it was the cars that come with on-demand apps, then the on-demand food and restaurant delivery mobile apps, and now you can get any salon service to every salon service at your home and can book an appointment in advance.
Due to the continuous increase in the number of customers, each day and the growth in the services offered by the salons has raised the demand for beauty salon app development in Canada.
Add Some Exciting Attributes to your Salon
Application Software-
There are a lot of things that affect the salon business. There are so many challenges that a salon owner needs to fight with or resolve. Salon owners who already own a Salon Scheduling Software need a lot of different techniques to get a number of customers. Below we have mentioned some of the important attributes in the blog that will surely help you to increase your business.
Coupons or Loyalty Card-
Nothing can't work like a coupon or loyalty card works. It is that weapon which can increase your sales up to a level that you have never thought of. Coupons may include one or more totally free service or services at a discounted price. For example-
Avail one manicure and one pedicure service and get waxing at half rate. This is very common and you must have seen that irrespective of gender, everyone goes to the salon to avail the free service or discounted one.
Furthermore, it is not important that the customer is coming just to avail the coupon. There are high chances that they may get other services also which will definitely add to your revenue. There are hardly any people who waste them without using them. If you are using certain products in your salons and you have mentioned them in your salon booking application then you can also give them free to your customers.
Advanced Analytical- It is a great mixer of all the data and figures regarding-
People booking salon services in advance
The number of people living in the targeted area
Activities of customers (logging in and out)
Service provider's activity
Mode of payments (credit cards or debit cards), etc.
Reminders- Yah! this is another attribute that can grab the attention of numerous customers. Think if some customer has booked a specific service and paid them. Due to some reason, the customer is unable to come to get the already booked service or he/she just forget it which leads to expiry. You will surely lose your popularity or you may get hope in negative reviews.
Some Best Salon Management Software has this awesome characteristic that can remind customers regarding their appointment at the salon. This enables customers to schedule their day accordingly.
High-Speed Payment Options– Some Top Salon Software has high-speed payment options that allow customers to pay for availed services. It is always necessary to have speedy and hassle-free transaction options.
Service of the Week- There are numerous services offered by the Salon Management Software such as- haircut, beauty treatments, nail arts, skin therapies, hair treatments, etc.
Everybody considers a celebrity as their role model and want to copy them. Be a haircut, hair color, or any skin treatment, people want exactly the same. For example- There are many people who want to have a hair cut exactly the same as Cristiano Ronaldo has.
Adding a service of the week column in your salon booking service application is a wonderful idea that can increase the total number of customers. Therefore, you can add some of the best makeups, hair-cuts, hair color styles, and skin treatments on your salon software apps as 'best haircuts or hair color of the week', etc.
What is the Need for development of A Salon App Software in Canada?
The main purpose of salon app development software is to increase the output of your business.
Another approach is to increase the number of customers by providing them the required services. As booking a beauty salon service via an app is much easier than waiting in the queue.
Salon App development software helps the salon owners to manage their staff, customers, appointments, services, and payment procedures, etc. In addition, salon software is used as the most important business tool to highlight your business in every way.
Conclusion
The benefits of adding such attributes or you can say characteristics in your salon booking app are many whereas it takes a little cost for the Beauty Salon App Development. If you want to add some exciting characteristics into your Online beauty salon appointment app, Contact US. We have the best Online Beauty Salon App Builders to shape your idea.