Why hiring on-demand flower delivery app development company makes sense?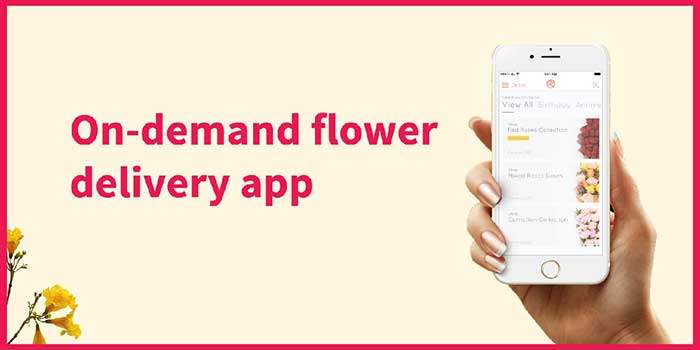 An expert on-demand flower delivery app development company knows all the right tricks and secrets to create the best florist app. This is something that we can say out of our experience. But if you have any doubts about it, let's clear the air in this blooming blog about everything you need to know about making money with online floral delivery solution for your same day flower delivery Canada.
From bestseller bouquets to 50 blooms of assorted spray roses. Do you own it all?Still not able to earn high profits you've always aimed in all these years? That's sad.
Did you have any idea that changing the way you sell your custom flower arrangements or wedding flower packages can drastically add to your profits and thus, making money as a Florist, Canada becomes a profitable business!
Well, not only Canada, you can be in any part of the world, and still be making a fortune out of your flower delivery services online. Bear it in mind that it's not about the quality of the flower delivery service but it's all about how you sell?
Sell your Flowers well with a Tailor-made On-demand Flower Delivery App:
You can only "sell well" if you have a great platform where your customers would love to order flowers, roses, plants & gifts for loved ones, in happiness or condolences- Flowers are amazing for every situation you can think of, flowers bring people together.
How many times have you thought as a florist to turn your business into a brand with a customized on-demand Uber like florist app and never actually took the action? Past is gone but "Now" is the perfect time to take your business online in this world of uberfication where your potential customers want everything gets done in 1-click.
Launch your own app: Uber For Flowers for Doorstep Delivery
Probably, you have heard about it, or you haven't. But, the reality is people are asking for it. "Can Uber deliver flowers?" You have an amazing chance to turn the dream into reality. By spending money on bouquets delivery app development, you are bound to have these benefits:
Edge over Competitors:
When you have an uber for florist app and your neighbouring competitors are still struggling to sell offline, you automatically get an edge over them. How? People order flowers delivery from the comfort of their home, without having to leave their place using your app. What else do they want? They get flowers delivered on time and you get your money, online!
Reach more Customers:
An app definitely gives you a golden opportunity to reach more customers. Just imagine, you never had the app and you never got an order online? As simple as that. You reach more people who use smartphones and your business gets an advantage of being discovered more and being found more means you get more orders for flower delivery in Canada. Isn't it worth it?
Multiple Delivery Options:
When you have the riders and flowers, with one click, your app users place orders. How about giving them options like "Same-day delivery" or "Midnight delivery"? Let your customers choose their preferred time and date of flower delivery Canada or anywhere your business is. More options attract more customers as well as help retain it.
Customer Care 24*7:
A great advantage you have with a florist app Android over businesses who don't sell using an app is that you give 24*7 customer support chat services online without any hassles. When you solve the client queries without letting them wait over the phone call, they will love you for your quick response.
Consistent Orders:
With apps, you don't have to change places or booths, you show everything you have by putting the best pictures. Pictures speak a thousand words. Your customers should know what they pay for is what they get. No show downs, no tantrums. A seamless flow of orders, just for your customers.
Top 3 Reasons to hire Flowers On-demand app development company:
To reap the maximum possible benefits, it is pretty important that you don't compromise over hiring a Flowers On Demand App Development company in Canada to give a boost to your flower delivery business. The agency you hire should know the ins and outs of creating the best florist app and how it works out successfully.
Certified & Expert Developers:
Hiring an expert team of mobile app developers means you will never be left alone. They handle the development process from start to end.
They know what Sells & what not:
With years of expertise in creating the best online flower delivery app solutions, the developers never compromise on what will work and what not.
24*7 Assistance Post App Launch:
After the app launch, you are assured of the technical team at hand that will take care of everything from launch to post-launch issues or bugs.
Whether it's for a flower bouquet, or an app. It's all about how easy you make it for your customers and clients to buy from you. Seamless ways to sell flowers through an on-demand app for flower delivery is most probably the best thing that has happened over the technological era. So when someone asks you "Can you Uber flowers?" You can say "Why not?"