7 Trending On-demand Mobile App Development Solutions of 2019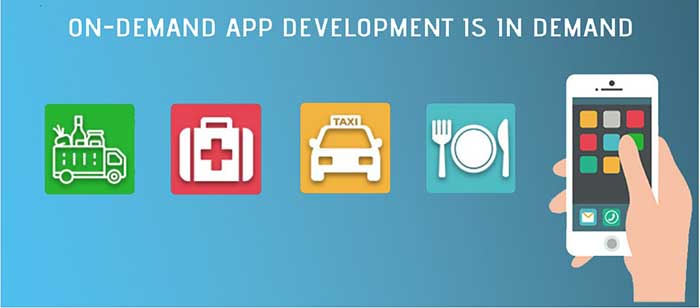 The bold & beautiful on-demand app development economy is gaining ultimate attention in 2019. It is bound to grow par limits owing to the higher surge in the "demand" of on-demand app solutions in such a short span of time.
How On-demand App Development helps reach people from the Comfort of Home?
On-demand economy 2019 has definitely opened infinite doors of opportunities for businesses and solopreneurs looking to bring their services or products online. Not only bringing businesses online is a breeze, but with on-demand apps, it's possible to deliver the products or people for services straight at the doorstep without having to wait for hours. Forget about days. On-demand services are made to meet the "Instant demand" of the app user in exchange for the money he/ she pays- Online or through cash.
Uberfication of almost everything has made the lives of people easier. When people ask "Can you Uber flowers?" or "Can you Uber Laundry Services?" we assume the level of comfort that people are seeking in 2019- All with the help of on-demand uber like app development in Canada and just anywhere around the world!
By the way, Uber for laundry is already here if you didn't already know. You would be surprised to know that $56.7 Billion were spent solely on on-demand services in America last year. (Source)
Uber for X: Ready On-Demand Delivery Solutions:
So, let's suppose you have a product X or a service X that you want to deliver to your customers while they sit at home, enjoying Netflix on the couch. It can be a food delivery service or just delivering flowers instantly or even taking laundry clothes and delivering them, freshly washed. The term Uber is connected to X because it completely removes the need of the customer to visit the hotel, or a laundry station or going to a cab station. Rather, riders and drivers come to pick and drop products or services just like the first-ever Uber taxi booking system- and drivers driving down the lane to the users.
An increasing number of on-demand developers are using Uber for X clone script to offer the clients readymade solutions in no time. No doubt, top Canadian app developers are making the 'best ever' use of the on-demand app ideas.
7 Trending On-demand Mobile App Development Solutions of 2019:
On-demand economy is going global and we can't underestimate its reach. By now, you would be curious to know more about how you can take advantage of the technological era combined with your business by hiring a company for on-demand app development solutions in Canada or anywhere you like.
Without any further ado, we will be talking about 7 trending on-demand app ideas that really have a "lit" future. Let's get started…
Taxi App like Uber:
It was exactly with Uber app that traveling became a breeze and since then, mobile app development for on-demand services in Canada and worldwide also went popular. Entrepreneurs started to build an Uber-like taxi app to see if they are in luck. Yes, they made sure to hire the best companies to help create an app with a USP. Well, the competition is RIGHT ON!
On-demand Food Delivery:
Delivering food to hungry people has never been easier. Whether it's early morning or midnight, there is no one limiting down what food delivery apps have to offer. Attractive offers, unlimited delicacies from far away from restaurants, without any time limitations has won everyone's heart at once. Join the league and get started with your own on-demand food delivery app for your restaurant or a popular food corner.
Florist Apps:
Do you own a flower delivery business and want to sell flowers online like hotcakes? If you have already thought about spending money on getting your full-fledged florist app by an on-demand flower mobile app development company, you are on the right track. No matter what, if you use the right marketing tools to promote your app, your business will earn manifolds in no time.
Mobile App for Milk Delivery:
What if you own an app that sorts out all milk delivery subscriptions for the users? Isn't it a BIG relief for them? A dairy farm owner or a milk retailer can go on and hire a specialized company for online fresh milk delivery app solutions for milk delivery app development. It is a one-stop solution for the owners as well as users for on-demand milk delivery services.
Salon Appointment App:
A beauty salon mobile app can offer incredible benefits to the user as well as to the salon owner and there's no doubt about it. Did you know you can boost the ROI when you hire professional online beauty salon app builders for your salon and spa business?
Tutor Finder App:
Ever heard about students finding home tutors right from their smartphones? It is like a dream come true for the pupils to find and hire their preferred tutor right from the on-demand tutor finder app. If you are really into the education domain or an academic counselor, this app idea is for you.
Handyman App:
Have you ever seen people (or yourself) struggling with leakage in the washroom or a sink? Not being able to cope with it brings frustration and hurdle in-home chores until the broken pipes are fixed. It can be a wire or a broken door! What comes handy is a handyman from an on-demand handyman app who travels to the user's place to fix the damage. That sounds oh-so-amazing!
Summary:
Every experienced On-demand mobile app development company knows it well that it's all about the speed to take the app to the market. Right from the start to launch, readymade on-demand delivery solutions help an entrepreneur take advantage of the current trends in the market so as to garner maximum possible users of the app.