Mobile App for Milk Delivery: How Customers & Farm Owners benefit?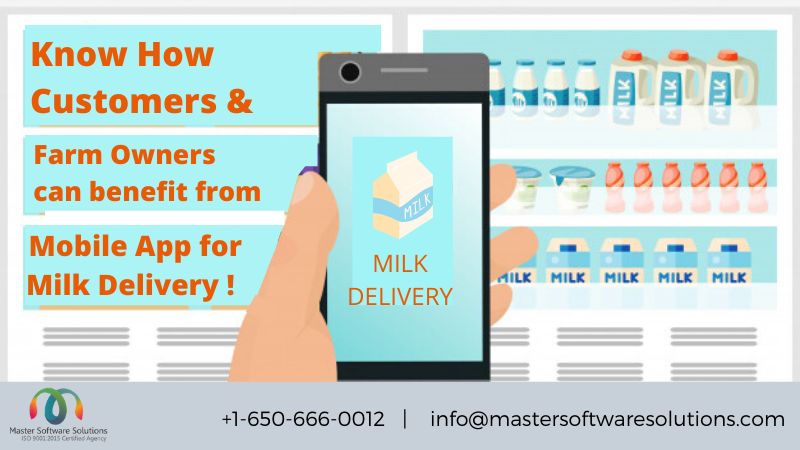 Probably, you own a big and advanced farm of cows…or you are one of those milk retailers who are currently looking for ways to promote your milk home delivery services to attract more customers nearby your service area.
Or, you already have your mindset to get an amazing-looking, productive and 100% USEFUL mobile app from an online milk delivery app development company.
Or, you might have a cow farm milk, supplying hundreds and thousands of liters of milk to the Milk Retailers or other brands? Why not start with Direct Farm to Home (DFH) for multiplying revenue?
In any of the above cases, what matters the most is that you should know it completely "What you have in the treasure of your milk business to offer to your customers?"
Easily Make Money from Online Milk Delivery App:
Do you sell fresh buffalo milk in Dubai or fresh cow milk in Dubai?
Do you want to get started by purchasing subscription-based milk delivery software for your customers?
Well, whatever the case be, you seriously need to put money into Milk delivery app development services because it will add to your business, no matter what. You can mark these words.
Sell well with Subscription-based Mobile App for Milk Delivery:
We have some solid reasons that shouldn't go unheard…
1 Your Business Gets Found Online.
Giving an app to your existing clients or your potential customers means that they are able to find you online, which is simply impossible without an app (in the earlier case!). So, profits are on the way.
2 Set your Business Goals for Future.
When you are an owner of such a big farm, you must have the vision to expand your business and take it to higher levels. To meet your short-term and long-term goals, apps direct you rightly.
3 Ease in Delivery is loved by Customers.
If there is one thing that customers will LOVE about your fresh milk delivery UAE brand is the ease that you have given them in ordering milk. Taking daily morning burdens off their shoulders is something they always want.
4 Direct from Farm Milk is in Demand:
This reason is as simple as it can be. Direct from farm milk is what the most sought after milk type right now. So, if you have already made your mind to sell off farm milk online through the milk delivery app, you are in luck.
5 100% Pure Milk Delivered by You.
You, as an owner of the cow or buffalo milk farm, holds the responsibility to deliver your customers what you tell them. But, do you know that milk is adulterated by middlemen to save a few bucks, and that will cost dearly to your business.
6 No Payment Confusions, EVER!
When you have a customized milk delivery management software created by professionals in the industry, you never need to get confused again. We know keeping a record of the payments can prove to be a big problem.
7 You Keep Track of Sales through the Mobile:
You already handle the farm operations or retail shops that you don't have time to do the accounting work manually. So, what else do you want than tracking sales through your very own mobile app? We create apps that do the trick. Inquiries welcome. We've got your back with even more COMPELLING reasons below:
Benefits your Customers Can't Get without Dairy Milk App:
1 Customers are Free to Choose Milk-Type Subscription.
A1 or A2, toned or untoned- You might be offering so much variety in milk delivery services that you must get a mobile app for milk delivery to let your customers know how your business differs from what other competitors offer to the people.
2 App Users Pay Online Easily from Milk Dairy App.
The world is going cashless. Are you telling your customers to pay in cash when they buy from you? Through an app, you give your customers pay online through various methods and wallet integration helps to achieve the maximum flexibility in terms of payment.
3 Flexi-Scheduling helps to Order without Difficulty.
The customers may have different plans to get milk delivered- Daily, Alternate Days, Weekly or Fortnightly- Milk delivery management app lets the users schedule their orders. This flexible scheduling of the orders makes the app loved by your customers.
4 Early Morning Delivery- Same time, every day!
When you have an amazing team of delivery persons and delivery trucks at your disposal, you can set the early morning time to deliver fresh milk at the same time; say before 7 am. The best part is that you never dishearten your customers.
5 Users set Vacation Dates to Stop Subscription:
With online milk delivery app development solutions and a great app, you let users set vacation dates to stop milk delivery on those days. No milk wasted, no money wasted!
Endnotes:
What is the most awesome part about online fresh milk delivery app solutions is that the business of the farm owners climbs to very high levels and users of the app benefit from convenient delivery right at their doorstep. Request a demo now.