Future of Food App Business in the Next 5 Years with Big Data and AI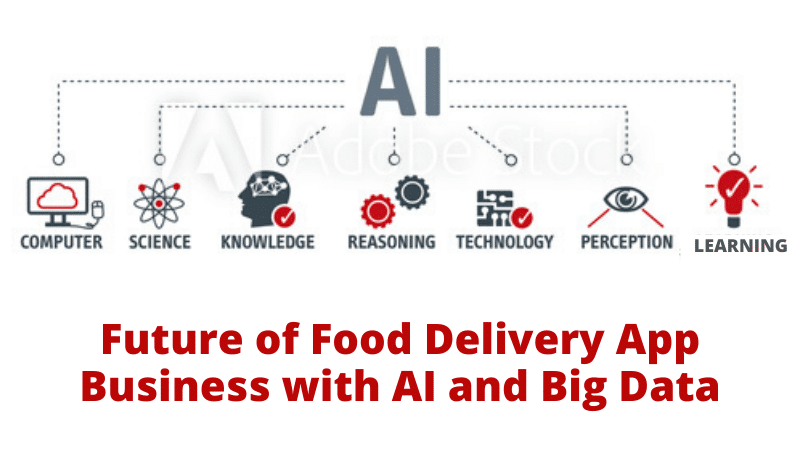 Food is another thing that is and will rule the world. It is one of the industries that is not going to see a downfall in the future. People are crazy about ordering different cuisines online. That is why the food ordering & delivery business is taking full advantage of different technologies. Now the experts are using innovative ideas for the food industry that would take it to another level of advancement.
What has been changed as of now and what more we can expect in the future? It was all started, from preparing the meal at home to having packed one, then ordering the tasty items from the food delivery app development solutions. And how technologies like Big data and AI are changing the present and future scenarios. Let's discuss all of them one by one-
How Artificial Intelligence and Big Data Influencing Food Business-
Impact of Big Data on Pizza Delivery App-
The service providers are now opting for food delivery app development solutions with unique features. If we talk about the future of these applications then the experts are collaborating them brilliantly with the technology.
Like big data is helping the pizza business in the best way. Now ordering the pizza from the menu becomes easier than ever because the technology helps them by suggesting various options as per the previously delivered orders.
Do you know! You can have your favorite pizza just with your eye. Yeah! This is true- A brand made software that reads the eyes- If the eye focuses on an individual pizza type then it further shows the ingredients. Is not it amazing! You can order just with your eye. Again all thanks to the technology.
Impact of AI on Food Delivery Applications-
With the help of Artificial Intelligence, you can expect the food deliveries to reach to next level of innovation. Would you like to enjoy your meal to be brought by a drone or a robot? Obviously, we all would. Yes, this is a kind of innovation that is expected in the coming years.
Some well-known brands have already done different successful experiments in diverse places for the delivery of food through drones. All this is made possible just because of Artificial Intelligence. To use it frequently, everybody is waiting to have permission from the governments of various countries.
Hence, the future of food app development solutions is on high. To attract the customers and to make hefty revenue, companies are developing new and advanced features in their software.
The revenue of the food industry is expected to cross 22 thousand million US dollars at the end of this year and by 2023 it would see 6.5% of growth- that would reach 28 398 million US dollars.
Technology is Influencing Food Ordering App-
Modification is not at all going to limit for the delivery part. Ordering the new cuisine would also become exciting. Now, you can have food through websites and mobile solutions where you may apply various coupons, etc or pizza ordering applications to get some extra offer or discount.
But with these technologies the ordering would become sophisticated- you can order with your smartwatch, smart TV. Picking a smartphone to have your favorite meal would be scrapped in the future.
Usage of Artificial Intelligence for Developing Restaurant App-
If we talk about a restaurant app solution, then a lot of services are given by the service providers or owners. Some of them are- delivering food, booking table, etc. Today, in many restaurants, AI-based robots are serving the customers and taking orders from them- that means the robots are taking the place of human beings. It is being successfully used. In some countries, the robots have already replaced humans but still, there are a lot more that could be done.
For example- At the beginning of this year- news of firing the 'annoying' robotic staff by the hotel owner made a buzz in the world. According to the owner, he is going to deploy robots everywhere of his hotel from the reception area to serving the customers.
New Payment Modes of Food Mobile Solutions- Cryptocurrency-
New technology has entered the world of food i.e. blockchain which is related to cryptocurrency. It is a new payment method used to pay for the ordered meal through food ordering software. In the past, it was discarded by many due to some issues, but now it has been accepted by various countries as the newest and most-trusted payment mode.
Due to its advantages, certain solutions are being developed that are used to accepting cryptocurrencies as a payment method. We can expect them as the new, trendy and safest way of transactions that would replace the current transaction modes.
How Mobile App Development Companies Can Help You with AI and Big Data?
Where these technologies would take us and our businesses exactly- no one can judge it. But yes! By all the counts and points it is concluded that you would see a new phase of the mobile development applications sector in the future. The experts of mobile development companies are piercing new and advanced features to multiple customers and chop a huge amount of revenue. If you have any questions regarding how you can use AI for your business or big data technologies, just contact us.