Why develop a doctor on-demand app?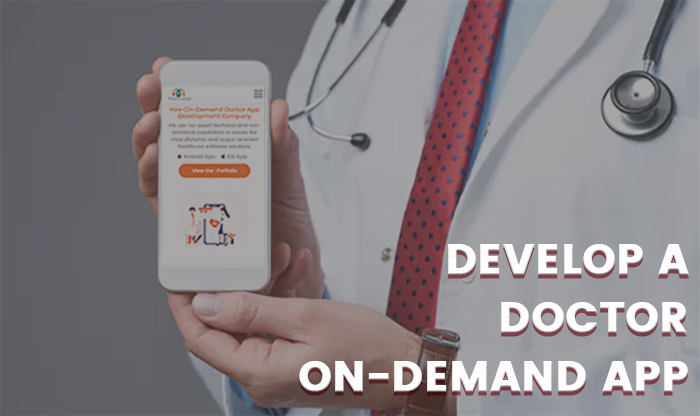 Visiting a doctor's office or clinic itself is a challenging task especially when you are ailing with fever or any kind of flu. There are so many things to do just to visit a doctor such as- get the appointment then wait for hours in the waiting room of a doctor's clinic.
Schedule Your Appointment through an On-Demand Doctors App-
Have you heard about doctors on-demand terms? If not then you must know it. We have mentioned each and everything regarding the doctor's on-demand app. Also, we have mentioned why there is a great need for doctor on-demand app development and why people are just rushing behind finding a doctor appointment app development company?
How a Doctor On-Demand App Can Help You?
We and our near ones often visit a doctor's clinic many a time to treat several medical conditions. But visiting a doctor's clinic is seriously a very long procedure that requires consultation with the doctor's office to make an appointment, then visit there personally, then wasting time in the waiting rooms. Sometimes, it is all frustrating which mainly leads to excess botheration, snit, and impatience. All these problems have vanished with the inclusion of the doctor on-demand app.
What is Included in Doctors on Demand App?
There are so many options that doctors apps offer to their customers or patients. Moreover, there are so many things that need to be discussed with the professionals. If you are looking for the development options for your own doctor on-demand app then you must discuss the following things with the professionals.
Services– Medical is considered as one of the largest industries. There are numerous fields on which the doctors are providing services to their patients. For example- Any cancer-related patient is mainly treated by Oncologists and dermatologists are meant to treat skin related problems. Therefore, the operating area and the services offered by them would be different. Not only in these areas, but all other fields may differ in terms of services.
It is always recommended to discuss all the services you are going to deliver to your patients with the online doctor appointment app development company
Payment Options– Online payment option is common and used by almost everybody worldwide. It is important to discuss and mention each and every mode of payment with your developer company. It is important to discuss because there are some doctor on-demand apps that only accept credit cards on VISA and MasterCard while others accept American Express and Discover.
Online Visits– Online visit is a unique feature that some doctor on-demand apps offer. It may help customers in different instances. If a patient is in traveling and can't visit the doctor physically or too old then online visits can be beneficial for the patients and obviously doctors can treat them anywhere and offer their precious advice.
Prescriptions– After the online interaction with the patients, doctors can prescribe the required drugs to their patients if necessary. Patients can easily get them if your appointment app is directly or indirectly connected with any pharmacy store.
Benefits of developing a doctor's on-demand app-
A doctor on-demand app enables you to see a doctor within minutes. There is no need for scheduling appointments of patients in advance by answering their calls.
You can give a consultation to the patient from your house.
It is not only beneficial for the patients but also to the doctors. Ultimately, patients, as well as doctors, can save their time as well as money. As it minus your(patient) waiting timings and you need not spend money on the bus fare etc.
There is an option of video health visits for some non-urgent and non-emergency medical problems, like- sinus, infection related to bronchitis, excess cold, infection in the eye, ear, and nose, stomach problem, medical care for children, UTIs, skin infections, yeast infection and many more.
You may take advantage of the doctor on-demand app if you are lacking in primary care. In addition, you may take the benefits if you are traveling.
App for Doctor Appointments even can enable you to consult on non-working days such as- on public holidays, Saturdays and Sundays.
24/7 availability of a doctor- Before the familiarity of appointment through doctors on-demand apps, doctors can treat their patients within a given time. You must have seen the visiting hours of a doctor which are generally written on various websites or outside the doctor's clinic. The online doctor on-demand appointment app enables patients to consult them at any time.
Do you want to own an Uber App for Doctor Appointments?
There are a wide number of doctor on-demand apps offering online appointments to the patients. But it is important to choose the Doctor Appointment Booking App Development Company wisely. We offer various types of online solutions to our clients depending upon the requirements. To know more, discuss with our On-demand Doctor App Developers.