Develop a Uber-like App For Your Beauty Salon Business With Us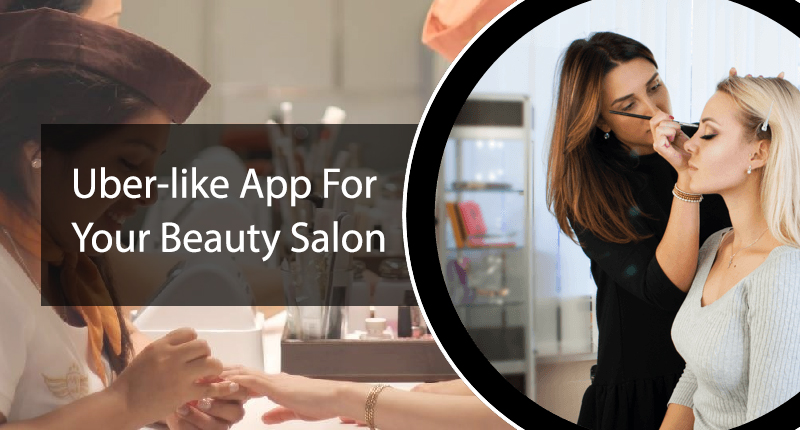 Now getting the various beauty services in no-time is not just in celebrities' pockets. Due to the development of uber-like beauty apps, the way of interaction between the customers and specialists working with salon centers has been changed. Not just in Canada, the building of uber for beauty services is quite high all over the world.
The uber for beauty is the need of the industry. The development of apps that are taking place to enhance their business offers better ways to interact with their customers. Salon service providers offer numerous services such as- skin-care treatments, hair care services, beauty treatments, makeup, skin enhancement services, hair cuts, nail care, and many more.
How Does Uber-like Beauty Apps Work?
Developed for Android or iOS platforms, a uber-like app for beauty salon enables you to skim it to avail a variety of different salon related services. It is important to mention here that everybody doesn't belong to technology-oriented fields. So, it is imperative to build a salon booking mobile solution which is easy to operate for users and effective for the service providers.
Well! Generally, these apps are developed in a very systematic way. Below, we have described the whole procedure of the working of the mobile salon booking software. So, here we start.
Authentication No mobile solution allows any unknown identity to operate the app solution. The foremost action includes the sign-in step. The coding is done in such a way by the masters of technology that it can authenticate the users to avail the services only after mentioning valid details such as- mobile number, email identification, etc.
Search After authenticating a customer, they can easily search for the required service/s. It replaces the activity in which you (salon owner) or your staff give your brochure whenever a customer visits your place. It allows customers to go through the search option to find the desired results.
List of Services Or you can say the heart of your mobile salon application. It includes a detailed version of all the facilities and in a concise but clear manner. If you want to own such a solution then you must discuss in your own organization and then discuss them with the development experts. Prior discussion with experts is quite necessary. Let's understand it with an example, What! if you have missed certain service in your uber-like app. Or have mentioned a service that you are not able to deliver to your customers then it will be a big turn-off for your business.
Option to Select a Service It is important that after mentioning a window specifically for service it must include all the things (such as description about products used, the time required to finish the service, etc,) that your beauty center is going to provide under it. In addition, it must have a price tag attached to it. So that your clients can easily see and choose accordingly. There are a lot of factors that may affect your customers at this point. We are going to discuss it further. In some cases, it is possible that customers are unable to book an appointment because of the unavailability of the desired specialist or artist on a specific day. So, it must show some alternatives to solve this problem of the customers otherwise you may lose your customers easily. This problem can be solved by the development team by reckoning some advanced features.
Payment Options Everybody (either the customer or the service provider) loves online payment activity. The payment option makes the transaction easy and effortless. It enables customers to pay the required money using their MasterCards, VisaCards, Credit Cards, or Debit Cards, or other mobile apps. In addition, the functionality inside an app is fixed in such a way that the total bill includes the charges of the services as well as the taxes, etc.
Uber for Beauty- Benefits of Owning it
There are numerous benefits to owning a salon app. It is not beneficial for one sector of the society, rather it has offered many advantages to the customers, service providers, etc. We are going to discuss each and everything about it
Benefits for a Customer
Online Booking Booking enables customers to book any service easily just by clicking some taps on the smartphone. The process of booking can be completed within a few seconds. Without even visiting or having a word with the service providers, customers can easily get an appointment.
Uber-like Check in's and checkouts- Having a booking via uber-like beauty software makes it hassle-free. As customers can easily check-in to have the required services without standing in long queues.
Minimize the Waiting Time to Zero As mentioned above, mobile solutions have the ability to reduce the waiting time.
Available 24/7- Customers can book their time slot at any time in the night or in the early morning. The main reason because customers can access it any time just by putting their log-in details
Discounts A most amazing feature, every client love to grab any kind of discount. It is added by owners just to increase brand awareness. Also named as coupons or loyalty programs. It is considered as a huge benefit for the customers offered by the service providers when they book a specific service, they may get immediate discounts or coupons that can be used for booking services.
Automatic Appointment Reminders There are many such customers who book their appointment according to their convenient time but forget it later on. Obviously, it is a big loss for the clients. But the reminder is an amazing feature that sends a notification in the form of an SMS just to remind their precious clients about their booking.
Benefits For a Service Provider
Increased Revenue– Everybody owns a smartphone for many reasons. It is the most essential device of this century. This is the reason so many business owners are concatenating technology to represent their trade. This software has the ability to raise the revenue graph. This is the reason many beauty center owners are hiring salon application development experts.
Prevent Double Bookings– If you own a spa center or any other beauty assistance center then you are well aware of double booking problem. It generally happens when everything is crafted manually. But with this online software, owners can easily counter such problems.
Security– It is the most secure method to keep the record of your customers secure and private. Plus, through online transactions, you can directly get your money in your bank account. In other words, your money can be transferred automatically to the most secure place.
Online Score Card– Just like the scorecard of an individual, people get admission to an educational institute or get selected for a job. Similarly, the customers can see the scorecards and avail of the facility. Plus, customers can review and rate as per their experience and it can be altered.
Reduce Expenses– Ahh!! This is one of the most essential elements which everybody wants. Due to the features added by the masters of the mobile apps, owners can easily reduce the expenses. For example- a uber-like beauty app can do each and everything from booking and taking calls from clients, to calculating the cost of needed services, etc. Otherwise, to do all these things, owners would have employed some employees which will definitely need a lot of money funds. So, it helps in reducing the manpower.
We just hope that you are now well aware of all the benefits of building an online solution. It is the best time to empower your salon business located in Canada by developing a uber-like beauty booking app. It is extremely important to discuss your idea with a salon app development company like Master Software Solutions. So that you can add countless features to your solution. We have an experienced development team to build the best salon management software.