Upgrade Magento 1 To Magento 2- What You Should Know?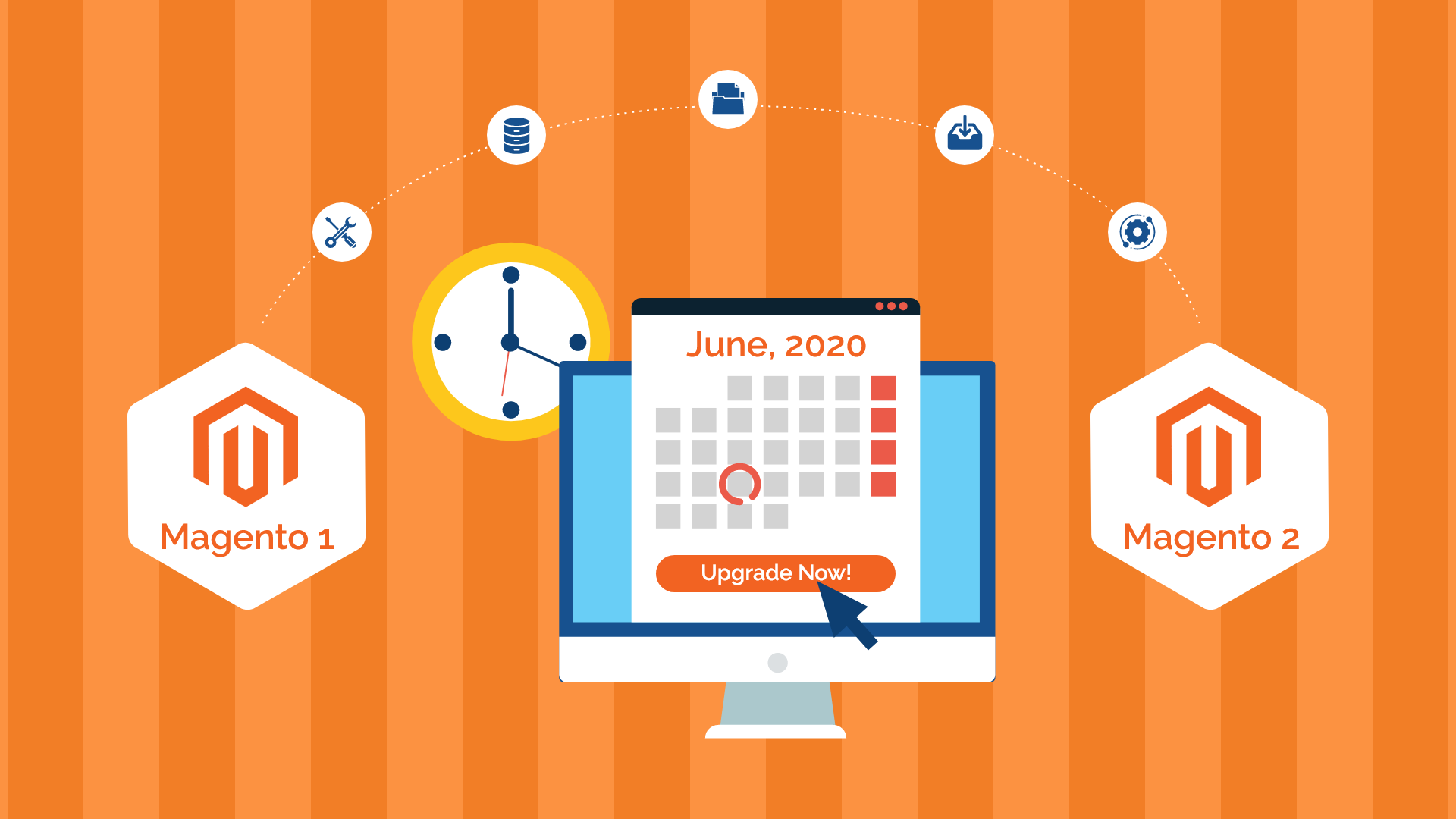 Magento 1 is going to End by June 2020 & the Countdown Begins-
Just 56,134 sites have upgraded from Magento 1 to Magento 2, whereas 209,904 stores are offering their services through Magento's live stores (As of data mentioned on 15/11/2019). The rest of the stores or businesses are at the stake of working at an unsupported software from June 2020.
What is Special in Magento 2 Development Services
About Magento 2-
Launched in November 2015, Magento has made a huge impact on the eCommerce development sphere. Those who are already using this new version are considered as precedence. How and Why- you will come to know while reading down the blog.
Magento 2 is comprised of powerful, impeccable, and extended features that have wiped the drawbacks of the old version. It is a kind of rebooting the whole online business structure. Saving time for the Magento developers and offer flexibility by using in-built tools are some of the highlights of the new version. As per our Magento developers, this version has offered more than 200 functional fixes and 75 security improvements.
How Magento 2 is Better Than Magento 1?
Getting Enhanced Performance-


What Magento 2 Can Do for Your Business
According to the Magento developers, the new version has power-packed with a lot of new and excellent characteristics that are helping the eCommerce business owners. How it can help your business- we have summed up the important points that will help you to know the difference Magento 2 is making.
Unbeatable Flexible Architecture – Due to the more usage of new and advanced technologies in online solutions, it becomes more important to have a flexible platform to broadcast the services easily. Magento 2 is endeavoring a pliable solution that can be compatible with new technologies such as Artificial Technology, Machine Learning, Big data, and much more. Therefore, even small-scale business owners can also get the advantage of solutions merged with new technologies that would scale up the performance as well as the productivity of their industries.
Enhanced Performances- The upgraded version is improving the performance of the businesses. As it is enhancing the user's engagements and helps them to get a more personalized experience while selecting the products and goods in their cart irrespective of their type of devices they are using, location and service they are availing.
Streamlined Checkout- Submerized services with advanced features of the new version has made the checkouts easier and more user-friendly. And further, it is helping the service providers to cater services to more customers in short time-interval.
Better Place for SEO- Digital marketing tactics are the most important thing for an e-commerce business, where SEO/SEM and PPC play an impeccable role to get visibility in the online market. The Magento 2 is offering the canonical tags to avoid duplicate content, meta tags for every specific page, and mobile-friendly options.
Better Business Agility- The upgraded version of Magento is offering a standalone database system that means software designed to work on a single node with a unique process. All this helps in managing orders efficiently and easily before or after selecting the checkout options.
Automated Testing- It bestows the multiple options of testing before launching a new solution. These may include unit testing, code testing, and load testing.
How to Migrate from Magento 1 to Magento 2
# Step 1- Theme Migration-
While upgrading from M1 to M2 version Magento developers need to work on a new theme to make it responsive for the users. And to make the theme compatible with the M2, experts have to make a new one.
A Secret Tip- Your business would experience a quick performance boost after switching to a new version.
# Step 2- Extension Migration-
The growth of extension is at its top because it (M1's extension) is facing severe compatible issues while deployed in the M2 version- That means, M1 extension will not work on the M2. Therefore, you need these components to have the extended functionality for that it is mandatory to get it from the Magento Marketplace. If the component you are finding for your business is unavailable then you can get a customized one.
# Step 3- Customization-
For custom code, the giant is offering a Toolkit. It becomes very important to get the viewpoint of the experts because there is a huge difference in the structures of both the platforms. Finding a problem while integrating with the new version?
# Step 4- Data Migration-
The migration of data from one platform to another is a crucial task. With the help of the Magento2 Data Migration Tool Kit, it is done smoothly. Our professionals have all the required skills to migrate it to the new version without losing the data and get it fitted as per the customer's (e-commerce store owners) requirements.
# Step 5- Performance Optimization-
After upgrading all the parameters from one platform to another, it is necessary to optimize the performance speed of the Magento Store.

What are the Benefits of Upgrading Magento 1 to Magento 2
Enhanced Security and Feasibility
Improved Checkout Process
Advanced Reporting
Responsive Design and Mobile-friendly
Upgraded Architecture
Increase in Sales and Enhanced Efficiency
Improved performance and scalability
Our Magento Developers are Specialized in Other Services too
The time is passing just like sand trickles from hand. It is necessary to at least make a plan to upgrade your business from Magento 1 to Magento 2 or discuss it with the right people dealing or already deal with the upgrading projects. We have a squad of well-experienced and certified Magento 2 solution professionals and developers.