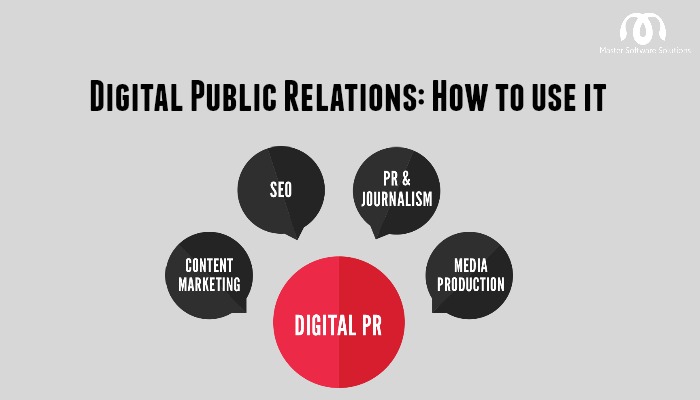 Inspired by the good old traditional public relations methods, digital PR is a new take on promoting business by using some very strategic approach. The overall aim of PR is to build relationship and while on digital grounds, it's done completely through definite measures which yield benefits, especially in the digital domain.
So be it SEO, SMO or links exchange, digital marketing plays a huge role in establishing valuable public relations especially through real people who have a strong social influence.
Digital Public Relations: How to use it
The good thumb role of digital PR is employing various means that helps a brand connect with the prominent social influencers. Although business goals need to be defined well ahead before you can start strategizing, it is must that you keep your business goals well aligned throughout.  
The first thing to do is define your objectives for using digital public relations. Do you want more traffic? Or do you want more brand awareness? The next thing in line is to determine which prominent online influencers you wish to get in touch with in order to establish public relations. Always remember that you are contacting these people because you want to use their online repute to get a greater reach.
Digital PR methods help yield far better and positive results as compared to the traditional methods. For this purpose, you can choose bloggers, vloggers, public figures, celebrities etc. Since these people have a higher number of followers, you will be easily able to get high traffic and more brand awareness.
Now comes the main part – making strategy about just how exactly are you planning to ask your clients to spread word about your business. It can be a sponsored social media post, tweet or a blog post that includes an anchor text with a link that will redirect all the traffic on your website landing page. The landing page needs to be designed specially so that the redirected traffic is managed efficiently.
Another most important thing you need to make sure is that spreading the word should be well timed. For instance, every social influencer's account gets high traffic at a particular time of the day. So, if your brand awareness is not done in this peak hour, it won't give you any result. Therefore, digital PR strategy needs to be carried out on traffic peak hours so that the objective of getting high traffic, awareness and reputation can be achieved.
Digital Public Relations, when combined with white hat SEO techniques can be a great way to boost your business reputation digitally. Do you have any digital PR tips to boost your business? If yes, then don't forget to mention them below in the comment box.